Princess Diana – On this day in 1997, Diana, Princess of Wales died in a car crash in the Pont de l'Alma road tunnel in Paris along with her then boyfriend, Dodi Al-Fayed and their chauffeur Henri Paul, at the age of 36.  Born Diana Frances Spencer on 1 July 1961 in Park House, Sandringham, Norfolk, England into the Spencer family, a British noble family descended in the male line from Henry Spencer (died c. 1478), male-line ancestor of the Earls of Sunderland, the later Dukes of Marlborough, and the Earls Spencer.  Sir Winston Churchill was a grandson of the 7th Duke of Marlborough.  She was only 36 at the time of her death.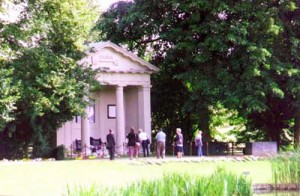 The Final Footprint - Princess Diana is entombed in a private mausoleum on the Island on the lake Oval on the grounds of the Spencer Estate in Althorp.  Permanent memorials include:
The Diana, Princess of Wales Memorial Gardens in Regent Centre Gardens in Kirkintilloch
The Diana, Princess of Wales Memorial Fountain in Hyde Park, London
The Diana, Princess of Wales Memorial Playground in Kensington Gardens, London
The Diana, Princess of Wales Memorial Walk, a circular path between Kensington Gardens, Green Park, Hyde Park and St. James's Park, London
There is an unofficial memorial in Paris, Place de l'Alma: it is the flame of liberty, erected here in 1989.
There are two memorials inside Harrods department store in London:
Photos of Diana and Dodi behind a pyramid-shaped display that holds a wine glass still smudged with lipstick from Diana's last dinner as well as an 'engagement' ring Dodi purchased the day before they died and
A bronze statue titled Innocent Victims of the two dancing on a beach beneath the wings of an albatross
In 2006, the movie The Queen was released starring Helen Mirren as HM Queen Elizabeth II.  The movie is a behind the scenes look at the interaction between the royal family and Tony Blair's government as they struggle to deal with a family's private loss and the public's loss of a very popular figure.
I remember where I was when I heard the news.  Do you?
Have you planned yours yet?