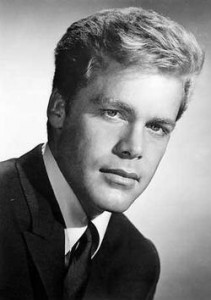 On this day in 1995, actor Doug McClure died in Sherman Oaks, California at the age of 59.  Born Douglas Osborne McClure on 11 May 1935 in Glendale, California.  Perhaps best remembered for his role as Trampas on the Western television servies The Virginian which ran from 1962 to 1971.  One of my favorite shows as a kid.  McClure was married five times; Faye Brash (1957 – 1961 divorce), BarBara Luna (1961 – 1963 divorce), Helen Crane (1965 – 1968 divorce), Diane Soldani (1970 – 1979 divorce) and Diane Furnberg (1979 – 1995 his death).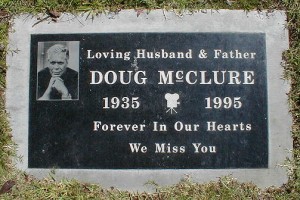 The Final Footprint – McClure is interred in Woodlawn Cemetery in Santa Monica, California.  His grave is marked by a flat granite marker with his picture and the inscription; Loving Husband & Father and Forever In Our Hearts We Miss You.  Other notable Final Footprints at Woodlawn include; actress Barbara Billingsley, actor Harvey Korman and actor Glenn Ford.
Have you planned yours yet?