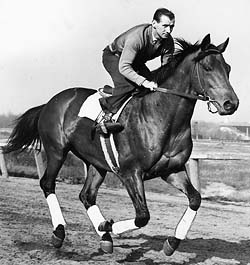 On this day in 1947, champion Thoroughbred racehorse, Seabiscuit died in his stall at Ridgewood Ranch near Willits, California.  Foaled 23 May 1933 from the mare Swing On and sired by Hard Tack, a son of Man o' War.  Seabiscuit was named for his father, as hardtack or "sea biscuit" is the name for a type of cracker eaten by sailors.   The bay colt grew up on Claiborne Farm in Paris, Kentucky.  Seabiscuit became an unlikely champion and a symbol of hope to many Americans during the Great Depression.  In the "Match of the Century" on 1 November 1938, Seabiscuit ran against Triple Crown winner War Admiral in a match race.  Seabiscuit won by four clear lengths.  He was named the 1938 Horse of the Year and at the time of his retirement, he was racing's all-time leading money winner.  Seabiscuit became the subject of a 1949 film, The Story of Seabiscuit; a 2001 book, Seabiscuit: An American Legend by Laura Hillenbrand; and a 2003 film, Seabiscuit starring Jeff Bridges and Chris Cooper, which was nominated for seven Academy Awards, including Best Picture.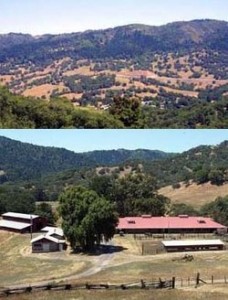 The Final Footprint – Seabiscuit was interred at an undisclosed location at Ridgewood Ranch.  Bronze statues of Seasbiscuit have been erected in his honour at Ridgewood Ranch and at Santa Anita Park, a racetrack in Arcadia, California.
Have you planned yours yet?