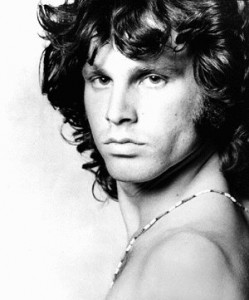 On this day in 1971, singer and lyricist for the rock band The Doors, poet, The Lizard King, Mr. Mojo Risin', Jim Morrison died in his Paris apartment at the age of 27, thus becoming a member of Club 27 or the Forever 27 Club; a group of famous musicians who died when they were 27 years old.  The group includes; bluesman Robert Johnson, Rolling Stone Brian Jones, Jimi Hendrix, Janis Joplin, Kurt Cobain and Amy Winehouse.  The cause of death was listed as heart failure though an autopsy was not performed as the medical examiner claimed to have found no evidence of foul play.  Born James Douglas Morrison on 8 December 1943 in Melbourne, Florida.  Probably one of the most iconic, charismatic and pioneering frontmen in rock music history.  He remains popular and influential.  Morrison graduated from UCLA.  My favorite Doors songs inlcude; "Light My Fire", "Love Me Two Times", "Love Her Madly", "Touch Me", "People are Strange", and "Break on Through".  Morrison's long term companion/common-law wife was Pamela Courson.  She died of a heroin overdose – at the age of 27.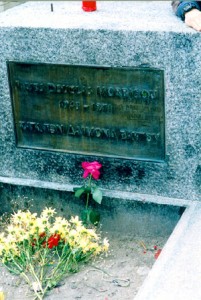 The Final Footprint – Morrison is interred in the Père Lachaise Cemetery in Paris, one of the city's most visited tourist attractions.  His grave is marked by an upright granite marker with the Greek inscription; ΚΑΤΑ ΤΟΝ ΔΑΙΜΟΝΑ ΕΑΥΤΟΥ, literally meaning "according to his own daemon" and usually interpreted as "true to his own spirit.  Oliver Stone's biopic The Doors, was released in 1991 and featured Val Kilmer as Morrison and Meg Ryan as Courson.  Other notable Final Footprints at Père Lachaise include; Georges Bizet, Honoré de Balzac, Maria Callas, Frédéric Chopin, Colette, Jean-Baptiste-Camille Corot, Molière, Édith Piaf, Camille Pissarro, Marcel Proust, Gioachino Rossini, Edmond James de Rothschild, Georges-Pierre Seurat, Gertrude Stein, Alice B. Toklas and Oscar Wilde.
Have you planned yours yet?