On this day in 1826, the 50th anniversary of the Declaration of Independence, a few hours before the death of John Adams, 185 years ago, polymath, planter, lawyer, teacher, one of the Founding Fathers of the United States, 2nd Governor of Virginia, United States Ambassador to France, 1st United States Secretary of State, 2nd Vice President of the United States, 3rd President of the United States, Thomas Jefferson died at his home Monticello just outside Charlottesville, Virginia at the age of 83.  Born on 13 April 1743 in Shadwell, Colony of Virginia.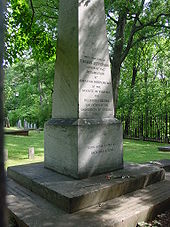 The Final Footprint – Jefferson is interred in the family cemetery at Monticello.  His grave is marked by a large upright stone monument.  Jefferson wrote his own epitaph, which reads:
HERE WAS BURIED THOMAS JEFFERSON
AUTHOR OF THE DECLARATION OF AMERICAN INDEPENDENCE
OF THE STATUTE OF VIRGINIA FOR RELIGIOUS FREEDOM
AND FATHER OF THE UNIVERSITY OF VIRGINIA
Have you planned yours yet?