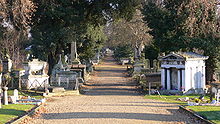 Kensal Green Cemetery is a cemetery in Kensal Green, in the west of London, England, in the Royal Borough of Kensington and Chelsea.  Inspired by the Père Lachaise Cemetery in Paris and founded by the barrister George Frederick Carden, Kensal Green Cemetery was opened in 1833 and comprises 72 acres of grounds, including two conservation areas, adjoining a canal.  Kensal Green Cemetery is home to at least 33 species of bird and other wildlife.  This distinctive cemetery has a host of different memorials ranging from large mausoleums housing the rich and famous to many distinctive smaller graves and even includes special areas dedicated to the very young.  With three chapels catering for people of all faiths and social standing, the General Cemetery Company has provided a haven in the heart of London for over 180 years for its inhabitants to remember their loved one in a tranquil and dignified environment.
The area was immortalised in the lines of G. K. Chesterton's poem "The Rolling English Road" from his book The Flying Inn: "For there is good news yet to hear and fine things to be seen; Before we go to Paradise by way of Kensal Green."
Despite its Grecian-style buildings the cemetery is primarily Gothic in character, due to the high number of private Gothic monuments. Due to this atmosphere, the cemetery was the chosen location of several scenes in movies, notably in Theatre of Blood (1973).
Notable cremations at Kensal Green include; Ingrid Bergman and Freddie Mercury.
Have you planned yours yet?
Follow TFF on twitter @RIPTFF