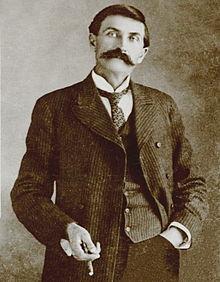 On this day in 1908; American Old West lawman, bartender, sheriff of Lincoln County, New Mexico as well as Doña Ana County, New Mexico, rancher and customs agent, Pat Garrett was shot and killed near Las Cruces, New Mexico, at the age of 57.  His murder went unsolved.  Born Patrick Floyd Jarvis Garrett on June 5, 1850, in Chambers County, Alabama.  Perhaps best known as the man who shot and killed Billy the Kid.  He coauthored a book about Billy the Kid which, for a generation after the Kid's death, was deemed authoritative; however, historians have since found many embellishments and inconsistencies with other accounts of the outlaw's life.  Garrett also became one of President Theodore Roosevelt's three "White House Gunfighters" (Bat Masterson and Ben Daniels were the others) when Roosevelt appointed him Collector of Customs in El Paso.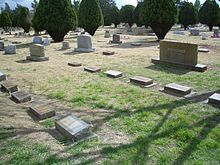 The Final Footprint – Garrett's body was too tall (he was 6′ 5″) for any finished coffins available, so a special one had to be shipped in from El Paso.  His funeral service was held March 5, 1908, and he was laid to rest next to his daughter, Ida, who had died in 1896 at the age of fifteen, at the Masonic Cemetery in Las Cruces.
The site of Garrett's death is now commemorated by a historical marker south of U.S. Route 70, between Las Cruces and the San Augustin Pass.  The actual spot where Garrett was shot was marked Pat's son Jarvis Garrett in 1938-1940 with a monument consisting of concrete laid around a stone with a cross carved in it.  The cross is believed to be the work of Pat's mother.  Scratched in the concrete is "P. Garrett" and the date of his killing.  Garrett has been portrayed in film many times including:
Thomas Mitchell in The Outlaw (United Artists, 1943)
Glenn Corbett in Chisum (Warner Bros., 1970)
James Coburn in Pat Garrett & Billy the Kid (MGM, 1973)
Patrick Wayne in Young Guns (Fox, 1988)
William Petersen in Young Guns II (Fox, 1990)
Have you planned yours yet? 
Follow TFF on Twitter @RIPTFF