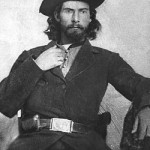 On this day in 1864, anti-Union guerilla leader, Bloody Bill Anderson died at the approximate age of 24 from a gunshot wound during a battle with Union forces near Richmond, Missouri.  Born William T. Anderson in 1840 in Hopkins County, Kentucky.  Historians have disparate opinions of Anderson; some see him as a sadistic, psychopathic killer, but for others, his actions cannot be separated from the general lawlessness of the time.  At one time or another Anderson rode with William Quantrill, and Frank and Jesse James.  Anderson married Bush Smith in Sherman, Texas.  The Final Footprint – Union soldiers buried Anderson's body in a field near Richmond.  In 1908, Cole Younger, a former guerrilla who served under Quantrill, reburied Anderson's body, and in 1967, a memorial stone was placed at the grave.  Asa Earl Carter's novel The Rebel Outlaw: Josey Wales features Anderson as a main character.  In 1976, the book was adapted into a film, The Outlaw Josey Wales, which portrays a man who joins Anderson's gang after his wife is killed by Union-backed raiders.  Anderson is portrayed by John Russell.  James Carlos Blake's novel Wildwood Boys is a fictional biography of Anderson.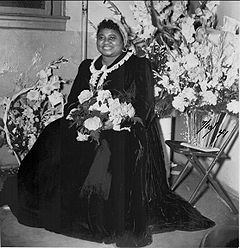 On this day in 1952, singer-songwriter, comedian, stage actress, radio performer, television star, actress, Academy Award winner, Mammy from Gone with the Wind, Hattie McDaniel died in Woodland Hills, California at the age of 57.  Born 10 June 1895 in Wichita, Kansas to former slaves.  Known for her generosity, elegance and charm.  Mammy is perhaps one of the most endearing film characters.  Rhett Butler's quote sums it up:  "She's one person whose respect I'd like to have".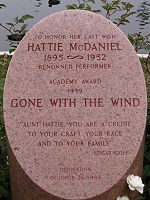 The Final Footprint – McDaniel is interred in Angelus Rosedale Cemetery in Los Angeles.  Her grave is marked by a flat granite engraved marker.  She planned her funeral in detail requesting a white casket with a white shroud, white gardenias for her hair, a white gardenia blanket and a pillow of red roses.  She also requested to be buried at Hollywood Forever Cemetery, but the management refused because they did not take blacks.  In 1999, new management at the cemetery tried to right the wrong and offered to have McDaniel moved but her family declined.  Instead, Hollywood Forever built a large granite cenotaph memorial on the lawn overlooking the lake to honour McDaniel.  The cenotaph includes a quote from her nephew;  "Aunt Hattie, you are a credit to your craft, your race and to your family".  It is a popular site for visitors.  She has two stars on the Hollywood Walk of Fame.  Other notable Final Footprints at Hollywood Forever include voice actor Mel Blanc (yes, his epitaph is "That's All Folks!"), director/producer Cecil B. DeMille, director Victor Fleming, actress Joan Hackett, director John Huston, Judy Garland, actress Jayne Mansfield's cenotaph, mobster Bugsy Siegel, Rudolph Valentino, and actress Fay Wray.
Have you planned yours yet?
Follow TFF on twitter @RIPTFF