On this day in 1926, magician and escapologist, Harry Houdini died at Grace Hospital in Detroit, Michigan at the age of 52.  Born Erik Weisz on 24 March 1874 in Budapest, Austria-Hungary.  His family came to America in 1878 and settled in Wisconsin before moving to New York City.  The family changed the spelling of their German surname to Weiss and changed the spelling of their son's name to Ehrich.  Friends called him Ehrie or Harry.  He became a professional magician and began calling himself Harry Houdini, as he was heavily influenced by the French magician Jean Eugène Robert-Houdin.  In 1893 he married Wilhelmina Beatrice (Bess) Rahner.  Best known for his famous escape acts.  The Final Footprint – Houdini was buried in the the Houdini-Weiss Family Estate in Machpelah Cemetery in Queens, New York.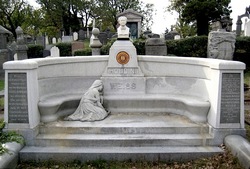 Every year on the anniversary of his death, Bess conducted a seance and tried to contact her husband's spirit.  After the tenth year she stopped, allegedly saying that ten years was long enough to wait for any man.  Bess wished to be interred next to him but when she died her Catholic family refused to bury her in a Jewish cemetery.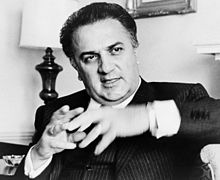 On this day in 1993, film director and screenwriter, Federico Fellini died from complications of a stroke in Rome at the age of 73, a day after his fiftieth wedding anniversary.  Born 20 January 1920 in Rimini, Italy.  Known for his distinct style that blends fantasy and baroque images with earthiness, in my opinion, he is one of the greatest and most influential filmmakers of the 20th century.  In a career spanning almost fifty years, Fellini won five Academy Awards including the most Oscars in history for Best Foreign Language Film.  Writing for radio, Fellini met his future wife Giulietta Masina in a studio office at the Italian public radio broadcaster EIAR in autumn 1942.  Well-paid as the voice of Pallina in Fellini's radio serial, Cico and Pallina, Masina was also well known for her musical-comedy broadcasts which cheered an audience depressed by the war.  My favorite Fellini films include: La Strada (1954); Nights of Cabiria (Le notti di Cabiria) (1957); La Dolce Vita (1960); 8½ (Otto e mezzo) (1963); and Amarcord (1974).  The Final Footprint – A memorial service was held in Studio 5 at Cinecittà.  At the request of Masina, trumpeter Mauro Maur played the "Improvviso dell'Angelo" by Nino Rota during the funeral ceremony.  Five months later on 23 March 1994, Masina died of lung cancer.  Fellini, Masina and their son Pierfederico are entombed in a bronze sepulchre sculpted by Arnaldo Pomodoro.  Designed as a ship's prow, the tomb is located at the main entrance to the Cemetery of Rimini.  The Federico Fellini Airport in Rimini is named in his honour.
Have you planned yours yet?
Follow TFF on twitter @RIPTFF