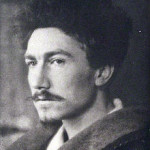 On this day in 1972, poet Ezra Pound died in the Civil Hospital of Venice at the age of 87 with his long-time mistress Olga Rudge at his side.  Born Ezra Weston Loomis Pound on 30 October 1885 in Hailey, Idaho Territory.  His contribution to poetry began with his promotion of Imagism, a movement that called for a return to more Classical values, stressing clarity, precision and economy of language.  Perhaps his best-known works include Ripostes (1912), Hugh Selwyn Mauberley (1920) and his unfinished 120-section epic, The Cantos (1917–1969).  Working in London and Paris in the early 20th century as foreign editor of several American literary magazines, Pound helped to discover and shape the work of contemporaries such as T. S. Eliot, James Joyce, Robert Frost and Ernest Hemingway.  He was responsible for the publication in 1915 of Eliot's "The Love Song of J. Alfred Prufrock" and for the serialization from 1918 of Joyce's Ulysses. Hemingway wrote of him in 1925: "He defends [his friends] when they are attacked, he gets them into magazines and out of jail. … He writes articles about them. He introduces them to wealthy women. He gets publishers to take their books. He sits up all night with them when they claim to be dying … he advances them hospital expenses and dissuades them from suicide".  Outraged by the loss of life during the First World War, he lost faith in England, blaming the war on usury and international capitalism.  He moved to Italy in 1924, where throughout the 1930s and 1940s he wrote for publications owned by Oswald Mosley.  The Italian government paid him to make hundreds of radio broadcasts criticizing the United States, as a result of which he was arrested for treason by American forces in Italy in 1945.  He spent months in detention in a U.S. military camp in Pisa.  Deemed unfit to stand trial, he was incarcerated in St. Elizabeths psychiatric hospital in Washington, D.C., for over 12 years.  While in custody in Italy, he had begun work on sections of The Cantos that became known as The Pisan Cantos (1948), for which he was awarded the Bollingen Prize in 1949 by the Library of Congress, triggering enormous controversy.  He was released from St. Elizabeths in 1958 and returned to live in Italy until his death.  His political views ensure that his work remains controversial; in 1933 Time magazine called him "a cat that walks by himself, tenaciously unhousebroken and very unsafe for children."  Hemingway nevertheless wrote: "The best of Pound's writing – and it is in the Cantos – will last as long as there is any literature."  In January 1909, Pound met the novelist Olivia Shakespear, Yeats's former lover and the subject of his The Lover Mourns for the Loss of Love, at a literary salon.  Pound married Olivia's daughter, Dorothy in 1914.  Pound met the American violinist Olga Rudge in Paris in the fall of 1922, beginning a love affair that lasted 50 years.  Apparently, Pound had always felt there was a link between his creativity and his ability to seduce women, something Dorothy had turned a blind eye to over the years.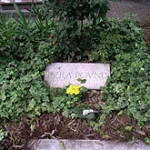 The Final Footprint – Four gondoliers dressed in black rowed Pound's body to the island cemetery, Isola di San Michele, where he was buried near Sergei Diaghilev and Igor Stravinsky.  Dorothy died in England the following year.  Olga died in 1996 and was buried next to Pound.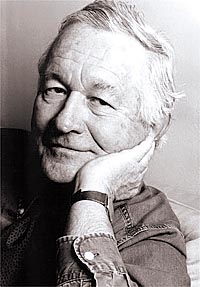 On this day in 2006, United States Marine Corp veteran, Pulitzer Prize-winning novelist and essayist, William Styron died in Martha's Vineyard, Massachusetts at the age of 81.  Born William Clark Styron, Jr. on 11 June 1925 in Newport News, Virginia.  One of my favorite writers.  Best known for his novels; Lie Down in Darkness (1951), The Confessions of Nat Turner (1967) and Sophie's Choice (1979).  I will never forget the moment when I read the passage from the book and realized what Sophie's choice was.  One of my favorite books.  Graduated Duke University with a B.A. in English.  Married Rose Burgunder in Rome in the spring on 1953.  The Final Footprint –
Styron is interred in West Chop Cemetery in Tisbury, Massachusetts.
Have you planned yours yet? 
Follow TFF on twitter @RIPTFF