On this day in 1976, adventurer, author and statesman, André Malraux, died in Créteil, near Paris at the age of 75.  Born on 3 November 1901 in Paris.  Known for his novel entitled La Condition Humaine (Man's Fate) (1933).  He served in several minister positions during De Gaulle's entire presidency (1959–1969).  Malraux married three times; Clara Goldschmidt (divorce), Josette Clotis (her death) and Marie-Madeleine Lioux (separation).  I inherited a copy of his book The Voices of Silence (Les Voix du Silence) from my Grandmother Ruby Christner.  Memorable quotes from The Voices of Silence: "Art is an object lesson for the gods." "The art museum is one of the places that give us the highest idea of man." "Humanism does not consist in saying: 'No animal could have done what I have done,' but in declaring: 'We have refused what the beast within us willed to do, and we seek to reclaim man wherever we find that which crushes him.'"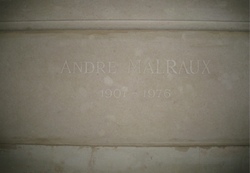 The Final Footprint – Malraux was cremated and his cremains were interred in the Verrières-le-Buisson (Essonne) cemetery.  In honor of his contributions to French culture, his ashes were moved to the Panthéon, a secular mausoleum containing the remains of distinguished French citizens, in Paris during 1996, on the twentieth anniversary of his passing.  Other notable Final Footprints at the Panthéon include: Victor Hugo, Louis Braille, Pierre and Marie Curie, and Alexandre Dumas, père, Jean-Jacques Rousseau, Voltaire, and Émile Zola.
Have you planned yours yet?
Follow TFF on twitter @RIPTFF