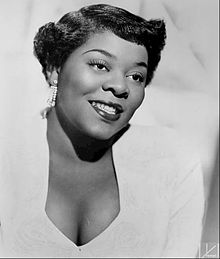 On this day in 1963, singer, pianist, Grammy winner, Rock and Roll Hall of Famer inductee, Queen of the Blues, Dinah Washington died in Detroit, Michigan from a combination of secobarbital and amobarbital, at the age of 39.  Born Ruth Lee Jones was born in Tuscaloosa, Alabama, on 29 August 1924.  She and her family moved to Chicago as a child.  In my opinion, on of the best recording artists of the '50s.  Primarily a jazz vocalist, she performed and recorded in a wide variety of styles including blues, R&B, and traditional pop music.  Washington married seven times, including NFL Hall of Famer Dick "Night Train" Lane.  The Final Footprint – Washington is interred in Burr Oak Cemetery in Alsip, Illinois.  In 1964, Aretha Franklin recorded a tribute album, Unforgettable: A Tribute to Dinah Washington.  In 1993, the U.S. Post Office issued a Dinah Washington 29 cent commemorative postage stamp.  In 2005, the Board of Commissioners renamed a park, near where Washington had lived in Chicago in the 1950s, Dinah Washington Park in her honor.  In 2008, the city of Tuscaloosa renamed the section of 30th Avenue between 15th Street and Kaulton Park "Dinah Washington Avenue."  On 29 August 2013, the city of Tuscaloosa dedicated the old Allen Jemison Hardware building, on the northwest corner of Greensboro Avenue and 7th Street (620 Greensboro Avenue) as the newly renovated Dinah Washington Cultural Arts Center.  Another notable final footprint at Burr Oak Cemetery is that of Emmett Till.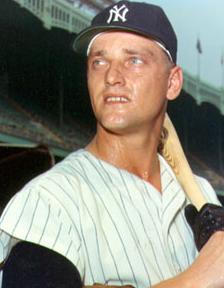 On this day in 1985, 7 time All-Star, 3 time World Series Champion, 2 time AL MVP, Gold Glove winner,

New York Yankee and single season home run king, Roger Maris, died in Houston, Texas at the age of 51.  Born Roger Eugene Maris on 10 September 1934 in Hibbing, Minnesota.  Maris hit 61 home runs for the New York Yankees during the 1961 season breaking Babe Ruth's single-season record of 60 home runs (set in 1927).  The Yankees retired Maris' number 9 on Old-Timers' Day, 21 July 1984, and dedicated a plaque in Maris' honor to hang in Monument Park at Yankee Stadium.  The plaque calls him "A great player and author of one of the most remarkable chapters in the history of major league baseball."  Maris was on hand for the ceremony and wore a full Yankee uniform.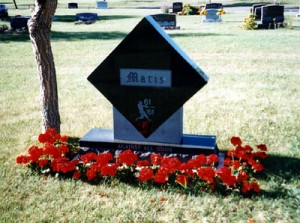 The Final Footprint – Maris is interred in Holy Cross Cemetery, Fargo, North Dakota.  His grave is marked by a large upright granite marker in the shape of a baseball diamond.  The Yankees placed a plaque in Monument Park in Yankee Stadium in honor of Maris.  Monument Park is an open-air museum containing a collection of monuments, plaques, and retired numbers honoring distinguished members of the Yankees.  Other notable Yankees whose final footprints include memorialization in Monument Park; Babe Ruth, Lou Gehrig, Joe DiMaggio, George Steinbrenner, Thurman Munson, Mickey Mantle, Roger Maris, Phil Rizzuto, Billy Martin, Mel Allen, Bob Sheppard, and Casey Stengel.
Have you planned yours yet?
Follow TFF on twitter @RIPTFF