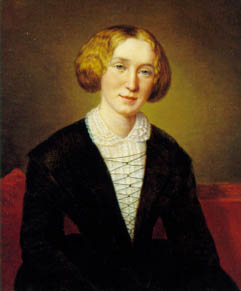 On this day in 1880, novelist, poet, journalist, translator and one of the leading writers of the Victorian era, George Eliot died at the age of 61 in Chelsea, Middlesex, England.  Born Mary Ann Evans on 22 November 1819 in Nuneaton, Warwickshire, England.  She is the author of seven novels, including Adam Bede (1859), The Mill on the Floss (1860), Silas Marner (1861), Middlemarch (1871–72), and Daniel Deronda (1876), most of them set in provincial England and known for their realism and psychological insight.  Eliot used a male pen name, she said, to ensure her works would be taken seriously.  Female authors were published under their own names during Eliot's life, but she wanted to escape the stereotype of women only writing lighthearted romances.  She also wished to have her fiction judged separately from her already extensive and widely known work as an editor and critic.  An additional factor in her use of a pen name may have been a desire to shield her private life from public scrutiny and to prevent scandals attending her relationship with the married George Henry Lewes, with whom she lived for over 20 years.  In my opinion, Middlemarch is one of the greatest novels in the English language.  Eliot married John Cross (1880 – 1880 her death).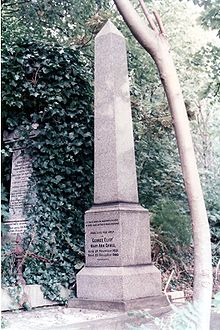 The Final Footprint – Eliot was not buried in Westminster Abbey because of her denial of the Christian faith and her "irregular" though monogamous life with Lewes.  She was interred in Highgate Cemetery (East), Highgate, London in the area reserved for religious dissenters or agnostics, next to Lewes.  In 1980, on the centenary of her death, a memorial stone was established for her in the Poets' Corner.  Several buildings in her birthplace of Nuneaton are named after her or titles of her novels, such as The George Eliot School (previously George Eliot Community School) and Middlemarch Junior School.  In 1948, Nuneaton Emergency Hospital was named George Eliot Hospital in Eliot's honour.  George Eliot Road, in Foleshill, Coventry was named in her honour.  Nuneaton motor cycle manufacturer John Birch named his motor cycles after her.  A statue of Eliot is in Newdegate Street, Nuneaton, and Nuneaton Museum & Art Gallery has a display of material related to her.  Other notable final footprints at Highgate include; Karl Marx, Christina Rossetti and actress Jean Simmons.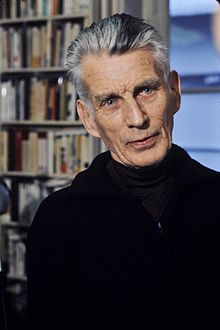 On this day in 1989, avant-garde novelist, playwright, theatre director, and poet, member of the French Resistance, Samuel Beckett died in a nursing home in Paris at the age of 83.  Born Samuel Barclay Beckett on Good Friday, 13 April 1906 in Foxrock, Dublin.  Beckett lived in Paris for most of his adult life and wrote in both English and French.  His work offers a bleak, tragicomic outlook on human nature.  In my opinion, Beckett is among the most influential writers of the 20th century.  He is considered one of the last modernists. As an inspiration to many later writers, he is also sometimes considered one of the first postmodernists.  Beckett is one of the key writers in what has been called the "Theatre of the Absurd". His work became increasingly minimalist in his later career.  Beckett was awarded the 1969 Nobel Prize in Literature "for his writing, which—in new forms for the novel and drama—in the destitution of modern man acquires its elevation".  He was elected Saoi of Aosdána in 1984.  Suzanne Déchevaux-Dumesnil (1900 – 17 July 1989) was the tennis partner, lover, and later wife (1961 – 1989 her death) of Beckett.  Barbara Bray had a long term relationship with Beckett, from 1961 to his death.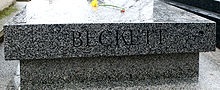 The Final Footprint – Suzanne died on 17 July 1989.  The two were interred together in the Cimetière du Montparnasse in Paris and share a simple granite gravestone that follows Beckett's directive that it should be "any colour, so long as it's grey."  Other notable Final Footprints at Montparnasse include; Charles Baudelaire, Simone de Beauvoir, Emmanuel Chabrier, Guy de Maupassant, Adah Isaacs Menken, Camille Saint-Saëns, Jean-Paul Sartre,  Jean Seberg, and Susan Sontag.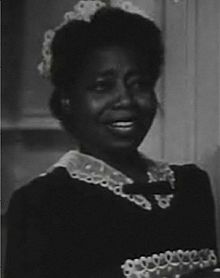 On this day in 1995, actress, Butterfly McQueen, died at the Augusta Regional Medical Center in Augusta, Georgia at the age of 84.  Born Thelma McQueen on 7 January 1911 in Tampa, Florida.  Apparently, her nickname was a tribute to her constantly moving hands.  She appeared as Prissy, Scarlett O'Hara's maid in the film version of Margaret Mitchell's Gone with the Wind.  The cast of GWTW included; Vivien Leigh, Clark Gable, Thomas Mitchell, and Hattie McDaniel.  She never married.  The Final Footprint – McQueen's body was donated to medical science, per her wishes.
Have you planned yours yet?
Follow TFF on twitter @RIPTFF