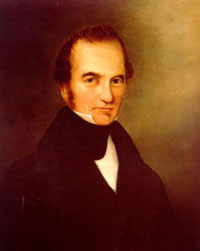 On this day in 1836, empresario, The Father of Texas, Stephen F. Austin died died of pneumonia at noon at the home of George B. McKinstry right outside of what is now West Columbia, Texas.  Born Stephen Fuller Austin in the mining region of southwestern Virginia (Wythe County) in what is now known as Austinville, some 256 miles (412 km) southwest of Richmond, Virginia.  Austin led the second, and ultimately successful, colonization of Texas by bringing 300 families from the United States.  Austin never married.  On 10 June 1836, Austin was in New Orleans, where he received word of Santa Anna's defeat by Sam Houston at the Battle of San Jacinto.  On August 4, Ausitn announced his candidacy for president of Texas.  He felt confident he could win the election until two weeks before the election, when on August 20, Houston entered the race.  Houston went on to win the election.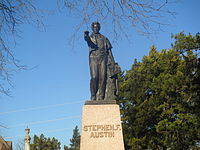 The Final Footprint – Austin's last words were "The independence of Texas is recognized! Don't you see it in the papers?…" Upon hearing of Austin's death, Houston ordered an official statement proclaiming: "The Father of Texas is no more; the first pioneer of the wilderness has departed."  Austin was originally buried at Gulf Prairie Cemetery in Brazoria County, Texas.  Austin's body was moved, however, in 1910 to the Texas State Cemetery in Austin, Texas.  The capital of Texas, Austin in Travis County, Austin County, Austin Bayou, Stephen F. Austin State University in Nacogdoches, Austin College in Sherman, and a number of K-12 schools are named after Austin.  Angleton, Texas, features a statue of Austin, sponsored by The Stephen F. Austin 500, sculpted by David Adickes, with a base of 12 feet and a total statue height of 67 feet, similar in height to the statue of Sam Houston found in Huntsville, Texas.  The base is 2 feet taller than the base of the Houston statue.  The National Statuary Hall Collection permits each state to select just two statues for display at the Capital in Washington, DC. Texas selected Sam Houston and Stephen F. Austin; these statues were sculpted by German immigrant Elisabet Ney.  In 1959, Austin was posthumously inducted into the Hall of Great Westerners at the National Cowboy Hall of Fame in Oklahoma City, Oklahoma.  In Austinville, Virginia, Austin's birthplace, a monument was erected along the New River near a junction with the New River Trail State Park.  In Bellville, Texas, the county seat of Austin County, a large bust of Austin by sculptor David Adickes is located at the intersection of State Highways 36 and 159.  Other notable final footprints at Texas State Cemetery include; John B. and Nellie Connally,  J. Frank Dobie, Barbara Jordan, Tom Landry (cenotaph), James A. Michener (cenotaph), Ann Richards, Edwin "Bud" Shrake, Big Foot Wallace, and Walter Prescott Webb.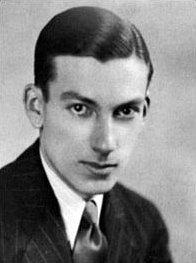 On this day in 1981, Oscar-winning composer, pianist, singer, actor, and bandleader, Hoagy Carmichael, died in Rancho Mirage, California at the age of 82.  Born Hoagland Howard Carmichael on 22 November 1899 in Bloomington, Indiana.  He is best known for writing the music to "Stardust", "Georgia On My Mind", "The Nearness of You", and "Heart and Soul", four of the most-recorded American songs of all time.  In my opinion, Carmichael was one of the most talented, inventive, sophisticated and jazz-oriented of the hundreds of writers composing pop songs in the first half of the 20th century.  The Oscar was awarded for "In the Cool, Cool, Cool, of the Evening", lyrics by Johnny Mercer.  Carmichael attended Indiana University and the Indiana University School of Law, where he received his Bachelor's degree in 1925 and a law degree in 1926.  He married twice; Ruth Menardi in 1935 and Dorothy Wanda McKay in 1977.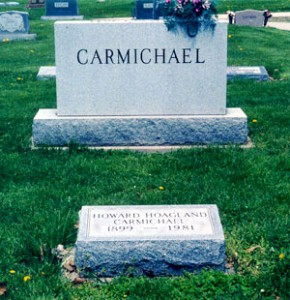 The Final Footprint –  Carmichael is interred in Rose Hill Cemetery, Bloomington, Indiana.  His grave is marked by an individual upright granite marker and a granite foot marker.  Carmichael wrote two autobiographies: The Stardust Road (1946) and Sometimes I Wonder (1965).  Dick Sudhalter wrote the first full biography of Carmichael, Stardust Melody: The Life and Music of Hoagy Carmichael.  Author Ian Fleming wrote in his novels Casino Royale and Moonraker that British secret agent James Bond resembled Carmichael, but with a scar down one cheek.  In the book Casino Royale, James Bond compares himself unfavorably with Carmichael.  Former Beatles singer and songwriter John Lennon reportedly announced that Carmichael was his favourite songwriter.
Have you planned yours yet? 
Follow TFF on twitter @RIPTFF