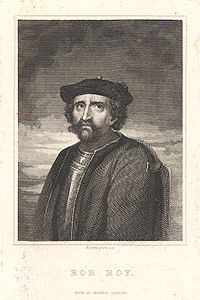 On this day in 1734, Scottish folk hero, cattleman, outlaw, the Scottish Robin Hood, Red MacGregor, Rob Roy, died at in his house in Inverlochlarig Beg, Balquhidder, Scotland.  Born Robert Roy MacGregor at Glengyle, Scotland.  Baptised 7 March 1671.  Rob Roy is anglicised from the Scottish Gaelic Raibeart Ruadh, or Red Robert. This is because Rob Roy had red hair, though it darkened to auburn in later life.  His father was Donald MacGregor, and his mother Margaret Campbell.  He later met Mary Helen MacGregor of Comar, who was born at Leny Farm, Strathyre, and they were married in Glenarklet in January 1693.  She bore him four sons: James (known as Mor or Tall), Ranald, Coll, and Robert (known as Robin Oig or Young Rob).  Rob Roy together with his father joined the Jacobite rising led by Viscount Dundee, Bonnie Dundee, to support the Stuart King James who had been deposed by William of Orange.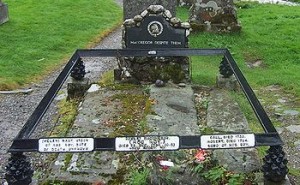 The Final Footprint – Rob Roy is interred with his wife and sons Coll and Robert in Balquhidder Church Cemetery, Balquhidder, Scotland.  Their graves are enclosed by an ornamental bronze rail and marked by an upright stone marker with the inscription; MACGREGOR DESPITE THEM.  The publication of Rob Roy, by Sir Walter Scott in 1817, further added to his fame and fleshed out his biography.  William Wordsworth wrote a poem called "Rob Roy's Grave" during a visit to Scotland.  Adaptations of his story has also been told in film, including the 1995 Rob Roy directed by Michael Caton-Jones and starring Liam Neeson.
Have you planned yours yet? 
Follow TFF on twitter @RIPTFF