On this day in 1170, Archbishop of Canterbury, saint and martyr, Thomas Becket, died in Canterbury Cathedral.  Born c. 1118 in Cheapside, London.  He is venerated as a saint and martyr by both the Roman Catholic Church and the Anglican Communion.  Becket engaged in conflict with Henry II of England over the rights and privileges of the Church and was assassinated by knights loyal to the king.  He was beatified 21 February 1173 and canonized by Pope Alexander III.  St. Thomas' feast day is 29 December.
The Final Footprint – Becket was entombed beneath the floor of the eastern crypt of the Canterbury Cathedral.  A stone cover was placed over the burial place with two holes where pilgrims could insert their heads and kiss the tomb.  In 1220, Becket's bones were moved to a new gold-plated and bejewelled shrine behind the high altar in the Trinity Chapel.  Canterbury, because of its religious history, had always seen a large number of pilgrims.  However, after the death of Becket, the number of pilgrims visiting the city grew rapidly.  The shrine was destroyed in 1538, around the time of the Dissolution of the Monasteries, on orders from King Henry VIII.  The king also destroyed Becket's bones and ordered that all mention of his name be obliterated.  The pavement where the shrine stood is today marked by a lit candle.  Reportedly, his bones were cremated and shot out of cannon over the city of Canterbury.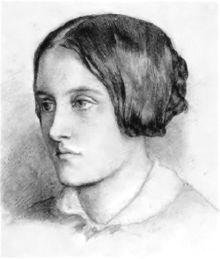 On this day in 1894, poet Christina Rossetti died in Torrington Square, Bloomsbury, London at the age of 64.  Born Christina Georgina Rossetti at 38 Charlotte Street (now 105 Hallam Street), London to Gabriele Rossetti, a poet and a political exile from Vasto, Abruzzo, and Frances Polidori, the sister of Lord Byron's friend and physician, John William Polidori.  Rossetti wrote a variety of romantic, devotional, and children's poems.  Perhaps best known for her long poem Goblin Market, her love poem Remember, and for the words of the Christmas carol In the Bleak Midwinter.  The Final Footprint –  Rossetti is interred in Highgate Cemetery in London.  Other notable final footprints at Highgate include; George Eliot, Karl Marx, and actress Jean Simmons.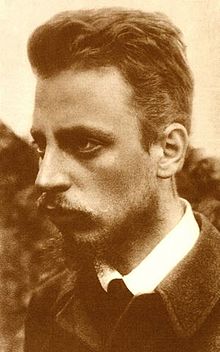 On this day in 1926, poet and novelist Rainer Maria Rilke died in the arms of his doctor on December 29, 1926 in the Valmont Sanatorium in Switzerland at the age of 51 from leukemia.  Born René Karl Wilhelm Johann Josef Maria Rilke in Prague, capital of Bohemia (then part of Austria-Hungary, now the Czech Republic), on 4 December 1875.  In my opinion, one of the most lyrically intense German-language poets. For me, Rilke's work is inherently mystical.  His writings include one novel, several collections of poetry, and several volumes of correspondence in which he invokes haunting images that focus on the difficulty of communion with the ineffable in an age of disbelief, solitude, and profound anxiety.  These deeply existential themes tend to position him as a transitional figure between the traditional and the modernist writers.  Rilke travelled extensively throughout Europe, including Russia, Spain, Germany, France, Italy, and in his later years settled in Switzerland.  These settings were key to the genesis and inspiration for many of his poems.  Perhaps best known for his contributions to German literature, over 400 poems were originally written in French and dedicated to the canton of Valais in Switzerland.  Among English-language readers, his best-known works include the poetry collections Duino Elegies (Duineser Elegien) and Sonnets to Orpheus (Die Sonette an Orpheus), the semi-autobiographical novel The Notebooks of Malte Laurids Brigge (Die Aufzeichnungen des Malte Laurids Brigge), and a collection of ten letters that was published after his death under the title Letters to a Young Poet (Briefe an einen jungen Dichter).  In the later 20th century, his work has found new audiences through its use by New Age theologians and self-help authors, and through frequent quoting in television programs, books and motion pictures.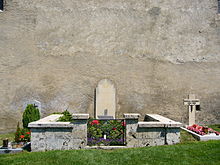 The Final Footprint – Rilke was interred on 2 January 1927 in the Raron cemetery to the west of Visp.  Rilke had chosen as his own epitaph this poem:
Rose, oh reiner Widerspruch, Lust,
Niemandes Schlaf zu sein unter soviel
Lidern.

Rose, oh pure contradiction, delight
of being no one's sleep under so
many lids.
A myth developed surrounding his death and roses. It was said: "To honour a visitor, the Egyptian beauty Nimet Eloui, Rilke gathered some roses from his garden. While doing so, he pricked his hand on a thorn. This small wound failed to heal, grew rapidly worse, soon his entire arm was swollen, and his other arm became affected as well", and so he died.
Have you planned yours yet? 
Follow TFF on twitter @RIPTFF