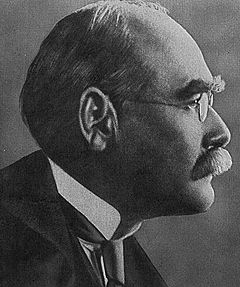 On this day in 1936, poet, writer, Nobel Prized recipient, Rudyard Kipling, died in Middlesex Hospital, London, England.  Born Joseph Rudyard Kipling on 30 December 1865 in Bombay, British India.  He was named after Rudyard Lake in Rudyard, Staffordshire, England where his parents met.  Kipling is best known for his works of fiction, including The Jungle Book (1894), Kim (1901), many short stories including "The Man Who Would Be King" (1888); and his poems, including Mandalay (1890), Gunga Din (1890), and If— (1910).  The Jungle Book is one of my favorite books from childhood.  Memorizing If is a rite of passage for the children of one of my friends.  Kipling was married to Carrie Balestier.  On marriage, he wrote that marriage principally taught "the tougher virtues—such as humility, restraint, order, and forethought".  Partly in response to the tragic death of his only son, John in 1915 in the Battle of Loos, Kipling joined Sir Fabian Ware's Imperial War Graves Commission (now the Commonwealth War Graves Commission), the group responsible for the garden-like British war graves that can be found to this day dotted along the former Western Front and all the other locations around the world where troops of the British Empire lie buried.  His most significant contribution to the project was his selection of the biblical phrase "Their Name Liveth For Evermore" (Sirach 44.14, KJV) found on the Stones of Remembrance in larger war graves and his suggestion of the phrase "Known unto God" for the gravestones of unidentified servicemen.  Kipling chose the inscription "The Glorious Dead" on the Cenotaph, Whitehall, London.
The Final Footprint – Kipling was cremated at Golders Green Crematorium and his cremains were inurned in Poets' Corner, part of the South Transept of Westminster Abbey.  Other notable cremations at GGC include; Kingsley Amis, Neville Chamberlain, T. S. Eliot, Sigmund Freud, Henry James, Vivien Leigh, Keith Moon, Peter Sellers, Bram Stoker, H. G. Wells and Amy Winehouse.  Other notable Final Footprints at Westminster include; Robert Browning, Lord Byron, Geoffrey Chaucer, Oliver Cromwell, Charles Darwin, Charles Dickens, Edward The Confessor, Elizabeth I, George II, George Friederic Handel, James I (James VI of Scotland), Samuel Johnson, Ben Jonson, Charles II, Edward III, Edward VI, Henry III, Henry V, Henry VII, Richard II, Rudyard Kipling, Henry Wadsworth Longfellow, John Milton, Sir Isaac Newton, Laurence Olivier, Henry Purcell, Mary I, Mary II, Mary Queen of Scots, Thomas Shadwell, Edmund Spenser, Lord Alfred Tennyson, Dylan Thomas, and William III.
Have you planned yours yet?
Follow TFF on twitter @RIPTFF