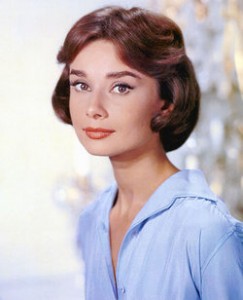 On this day in 1993, Oscar, Tony, Grammy and Emmy-winner, actress, humanitarian, Presidential Medal of Freedom recipient, the incomparably beautiful and talented, Audrey Hepburn died at her home in Tolochenaz, Vaud, Switzerland at the age of 63 from appendiceal cancer.  Born Audrey Kathleen Ruston on 4 May 1929 in Ixelles, Belgium.  Hepburn's father was an English banker of Irish descent and her mother was a Dutch aristocrat.  Her father later prefixed the surname of his maternal grandmother, Kathleen Hepburn, to the their and her surname became Hepburn-Ruston.  Oh my, where do we begin.  She is one of my very favorite actresses.  My favorite Hepburn movies: Roman Holiday (1953), Sabrina (1954), Breakfast at Tiffany's (1961), My Fair Lady (1964).  Hepburn was chosen to play the lead character in the Broadway play Gigi, that opened on 24 November 1951.  The writer Colette, when she first saw Hepburn, reportedly said "Voilà! There's our Gigi".  She and her co-star from Roman Holiday, Gregory Peck, became lifelong friends.  During the shooting of Sabrina, Hepburn was sent to a then young and upcoming fashion designer Hubert de Givenchy to decide on her wardrobe.  Givenchy and Hepburn developed a lasting friendship, and she was often a muse for many of his designs.  They formed a lifelong friendship and partnership.  Also, during the filming of Sabrina, Hepburn became romantically involved with co-star William Holden.  Hepburn was married twice; Mel Ferrer (1954 -1968 divorce) and Andrea Dotti (1969 – 1982 divorce).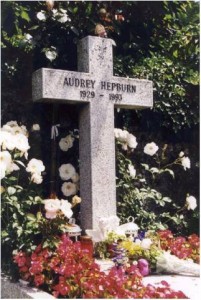 The Final Footprint – Funeral services were held at the village church of Tolochenaz, Switzerland, on 24 January 1993.  Maurice Eindiguer, the same pastor who wed Hepburn and Ferrer and baptised her son Sean in 1960, presided over her funeral while Prince Sadruddin Aga Khan, of UNICEF, delivered a eulogy.  Family members and friends attended the funeral, including her sons, partner Robert Wolders, brother Ian Quarles van Ufford, ex-husbands Dotti and Ferrer, Givenchy, executives of UNICEF, and fellow actors Alain Delon and Roger Moore.  Flower arrangements were sent to the funeral by Peck, Elizabeth Taylor and the Dutch royal family.  Hepburn is interred in Tolochenaz Cemetery.  Her grave is marked by a full ledger granite marker with a granite cross.  After her death, Peck went on camera and tearfully recited her favourite poem, "Unending Love" by Rabindranath Tagore.  This is one of my favorite poems.  Do yourself a favor and read it, soon and often.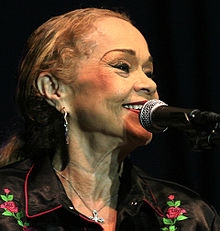 On this day in 2012, singer, songwriter Etta James died from leukemia five days before her 74th birthday, at Riverside Community Hospital in Riverside, California.  Born Jamesetta Hawkins on 25 January 1938, in Los Angeles.  Her style spanned a variety of music genres including blues, R&B, soul, rock and roll, jazz and gospel.  Starting her career in 1954, she gained fame with hits such as "The Wallflower", "At Last", "Tell Mama", "Something's Got a Hold on Me", and "I'd Rather Go Blind" for which she wrote the lyrics.  James is regarded as having bridged the gap between rhythm and blues and rock and roll, and was the winner of six Grammys and 17 Blues Music Awards.  She was inducted into the Rock and Roll Hall of Fame in 1993, the Blues Hall of Fame in 2001, and the Grammy Hall of Fame in both 1999 and 2008.  James was married to Artis Mills.  The Final Footprint – Her funeral, presided over by Reverend Al Sharpton, took place in Gardena, California eight days after her death.  Singers Stevie Wonder and Christina Aguilera each gave a musical tribute.  She was entombed at Inglewood Park Cemetery in Los Angeles County, California.  Other notable Final Footprints at Inglewood Park include; Ray Charles, Ella Fitzgerald, baseball player Curt Flood, actress Betty Grable, attorney Robert Kardashian (father of  Kim, Kourtney and  Khloé), soul musician Billy Preston , blues singer Big Mama Thornton, and blues musician T-Bone Walker.
Have you planned yours yet?
Follow TFF on twitter @RIPTFF