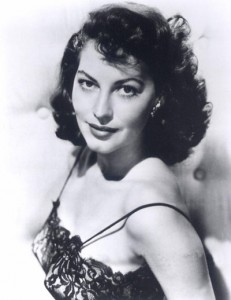 On this day in 1990, Oscar nominated actess, Ava Gardner, died from pneumonia, in her London home at the age of 67.  Born Ava Lavinia Gardner on 24 December 1922 in Grabtown, North Carolina.  Her Academy Award for Best Actress nomination was for her work in Mogambo (1953).  Gardner appeared in several high-profile films from the 1950s to 1970s, including; Show Boat (1951), The Snows of Kilimanjaro (1952), The Barefoot Contessa (1954), The Sun Also Rises (1957), On the Beach (1959), The Night of the Iguana (1964), Earthquake (1974), and The Cassandra Crossing (1976).  She was married three times; Mickey Rooney (1942 – 1943 divorce), Artie Shaw (1945 – 1946 divorce) and Frank Sinatra (1951 – 1957 divorce).  Gardner would later say in her autobiography that of all the men she had had, Sinatra was the love of her life.  Sinatra left his wife, Nancy, for Ava and their subsequent marriage made headlines and Sinatra was savaged by gossip columnists, the Hollywood establishment, the Roman Catholic Church, and by his fans.  Sinatra's career was suffering while hers was prospering.  Reportedly, Gardner used her considerable clout to get Sinatra cast in his Oscar-winning role in From Here to Eternity (1953).  That role and the award revitalized both Sinatra's acting and singing careers.  They reportedly remained friends after the divorce.  Gardner had other famous friendships; Howard Hughes and Ernest Hemingway.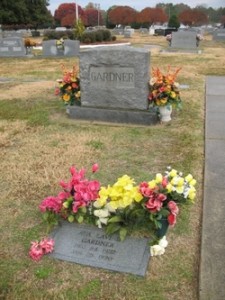 The Final Footprint – Gardner is interred in Sunset Memorial Park in Smithfield, North Carolina.  Her grave is marked by an upright granite marker and a granite footmarker.  In Tina Sinatra's book "My Father's Daughter: A Memoir", she writes that after Gardner's death she found her father in his room crying.  Supposedly, a floral arrangement was left at Gardner's graveside with a card that read: "With My Love, Francis".
Have you planned yours yet?
Follow TFF on twitter @RIPTFF