On this day in 1901, Italian Romantic composer, Giuseppe Verdi, died in the Grand Hotel et de Milan in Milan, Italy at the age of 87.  Born Giuseppe Fortunino Francesco Verdi on 10 October 1813 in Le Roncole, a village near Busseto, then in the Département Taro which was a part of the First French Empire after the annexation of the Duchy of Parma and Piacenza.  Primarily known for his operas; Nabucco, Rigoletto, Il trovatore, La traviata, Aida, Otello, and Falstaff.  In my opinion, Verdi is one of the most influential composers of the 19th century.  His works are frequently performed in opera houses throughout the world.  Some of his themes have long since taken root in popular culture – such as "La donna è mobile" from Rigoletto, "Va, pensiero" (The Chorus of the Hebrew Slaves) from Nabucco, "Libiamo ne' lieti calici" (The Drinking Song) from La traviata and the "Grand March" from Aida.  Verdi's masterworks dominate the standard repertoire a century and a half after their composition. Verdi was married to Giuseppina Strepponi (1859 – 1897 her death).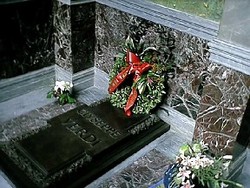 The Final Footprint – Verdi and his wife were initially entombed in Cimitero Monumentale in Milan.  Their bodies were disentombed and entombed in The Casa di Riposo per Musicisti, a rest home for retired opera singers and musicians which was founded by Verdi.  It is located at 29 Piazza Buonarotti in Milan.  The building was designed in the neo-Gothic style by Italian architect, Camillo Boito.  A plaque outside the building reads: GVARDANO GL'ITALIANI GVARDA REVERENTE IL MONDO TVTTO A QVESTE SPOGLIE ONORANDE DI GIVSEPPE VERDI QVI RICOMPOSTE IN GLORIA PERPETVA NELLA DOLCE DIMORA OSPITALE DAL SOMMO MAESTRO VOLVTA.  A bronze statue of Verdi was erected in Piazza G. Verdi in Busseto.  A bronze bust was placed outside of the Teatro Massimo in Palermo.
Have you planned yours yet?
Follow TFF on twitter @RIPTFF