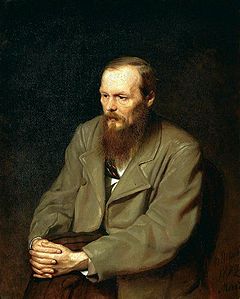 On this day in 1881, writer and essayist, Fyodor Dostoyevsky, died in St. Petersburg, Russian Empire at the age of 59.  Born Fyodor Mikhaylovich Dostoevsky on 11 November 1821 in Moscow, Russian Empire.  His notable novels include; Crime and Punishment (1866), The Idiot ( 1869) and The Brothers Karamazov (1880).  Dostoyevsky's works explored human psychology in the troubled political, social and spiritual context of 19th-century Russian society.  Considered by many as a founder or precursor of 20th-century existentialism and acknowledged by critics as one of the greatest and most prominent psychologists in world literature.  In his posthumous collection of sketches A Moveable Feast, Ernest Hemingway cited Dostoyevsky as a major influence.  In a book of interviews with Arthur Power (Conversations with James Joyce), Joyce praised Dostoyevsky's prose: …he is the man more than any other who has created modern prose, and intensified it to its present-day pitch.  It was his explosive power which shattered the Victorian novel with its simpering maidens and ordered commonplaces; books which were without imagination or violence. In her essay The Russian Point of View, Virginia Woolf said:  The novels of Dostoevsky are seething whirlpools, gyrating sandstorms, waterspouts which hiss and boil and suck us in. They are composed purely and wholly of the stuff of the soul. Against our wills we are drawn in, whirled round, blinded, suffocated, and at the same time filled with a giddy rapture. Out of Shakespeare there is no more exciting reading. Dostoyevsky married twice;  Mariya Dmitriyevna Isayeva (1857 – 1864 her death) and  Anna Grigoryevna Snitkina (1867 – 1918 his death).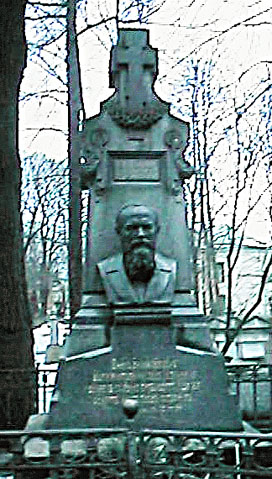 The Final Footprint – Reportedly, among Dostoyevsky's last words was his quotation of Matthew 3:14–15: "But John forbad him, saying, I have need to be baptised of thee, and comest thou to me? And Jesus answering said unto him, Suffer it to be so now: for thus it becometh us to fulfil all righteousness", and he finished with "Hear now—permit it. Do not restrain me!"  When he died, his body was placed on a table, following Russian custom.  Dostoyevsky is interred in Tikhvin Cemetery at the Alexander Nevsky Monastery in Saint Petersburg near his favourite poets, Karamsin and Zhukovsky.  His grave is marked by a large granite monument featuring his bust and the inscription; Verily, Verily, I say unto you, Except a corn of wheat fall into the ground and die, it abideth alone: but if it die, it bringeth forth much fruit. (Excerpt from John 12:24, which is also the epigraph of his final novel, The Brothers Karamazov.)  A statue in his honor was installed in Omsk.  There is a Dostoyevsky monument outside the Russian State Library in Moscow.  The Dostoyevsky statue was erected outside the Mariinsky Hospital, his birthplace in Moscow.
Have you planned yours yet?
Follow TFF on twitter @RIPTFF