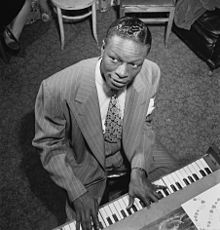 On this day in 1965, musician, jazz pianist, singer, song writer, Nat King Cole, died at St, John's Hospital in Santa Monica, California at the age of 45 from lung cancer.  Born Nathaniel Adams Cole on 17 March, St. Patrick's Day, 1919 in Montgomery, Alabama.  Cole's first hit was "Straighten Up and Fly Right", a song he co-wrote with Irving Mills.  Johnny Mercer invited him to record the song for Capitol Records.  Cole married two times; Nadine Robinson, Maria Hawkins Ellington (1948 – 1965 his death).  If you have not listened to Cole sing Irving Gordon's "Unforgettable" with a beautiful woman by your side, you have not lived.  One of my very favorite singers. 
The Final Footprint – Cole is entombed in the Freedom Mausoleum, Sanctuary of Heritage, Forest Lawn Memorial Park, Glendale, California.  Other notable Final Footprints at Forest Lawn Glendale include;  L. Frank Baum, Humphrey Bogart, Lon Chaney, Dorothy Dandridge, Elizabeth Taylor, Jean Harlow, Sam Cooke, Walt Disney, Errol Flynn, Clark Gable, Michael Jackson, Carole Lombard, Casey Stengel, Jimmy Stewart, and Spencer Tracy.
Have you planned yours yet?
Follow TFF on twitter @RIPTFF