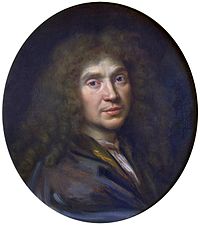 On this day in 1673, playwright and actor Molière (portrait by Pierre Mignard) died at his home in Paris from tuberculosis at the age of 51.  Born Jean-Baptiste Poquelin on 15 January 1622 in Paris.  In my opinion, one of the greatest masters of comedy in Western literature.  Among Molière's best-known works are The Misanthrope, The School for Wives, Tartuffe, The Miser, The Imaginary Invalid, and The Bourgeois Gentleman.  Though he received the adulation of the court and Parisians, Molière's satires attracted criticism from moralists and the Catholic Church.  Tartuffe and its attack on perceived religious hypocrisy roundly received condemnations from the Church, while Don Juan was banned from performance.  Molière's hard work in so many theatrical capacities took its toll on his health and, by 1667, he was forced to take a break from the stage. Molière married Armande Béjart, a famous stage actor at the time.  Her mother, Madeleine, had a relationship with Molière which perhaps continued after her marriage to him.
During a production of his final play, The Imaginary Invalid, Molière was seized by a coughing fit and a haemorrhage while playing the hypochondriac Argan.  Molière insisted on completing his performance.  Afterwards he collapsed again with another, larger haemorrhage before being taken home, where he died a few hours later, without receiving the last rites because two priests refused to visit him while a third arrived too late.  The superstition that green brings bad luck to actors is said to originate from the colour of the clothing he was wearing at the time of his death.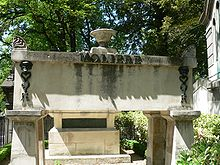 The Final Footprint – Under French law at the time, actors were not allowed to be buried in the sacred ground of a cemetery.  However, Armande, asked the King if her spouse could be granted a "normal" funeral at night.  The King agreed and Molière's body was buried in the part of the cemetery reserved for unbaptised infants.  In 1792 his remains were brought to the museum of French monuments and in 1817 transferred to Père Lachaise Cemetery in Paris, close to those of La Fontaine.  Other notable Final Footprints at Père Lachaise include; Honoré de Balzac, Georges Bizet, Jean-Dominique Bauby, Maria Callas, Chopin, Colette, Auguste Comte, Jean-Baptiste-Camille Corot, Amedeo Modigliani, Jim Morrison, Édith Piaf, Camille Pissarro, Marcel Proust, Sully Prudhomme, Gioachino Rossini, Georges-Pierre Seurat, Simone Signoret, Gertrude Stein, Alice B. Toklas, Oscar Wilde and Richard Wright.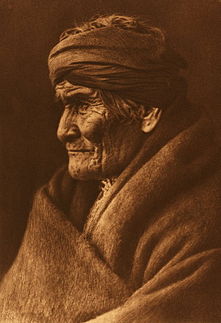 On this day in 1909 prominent leader of the Bedonkohe Apache, Geronimo died of pneumonia as a prisoner of the United States at Fort Sill, Oklahoma at the age of 79.  Born June 1829, near Turkey Creek, a tributary of the Gila River in the modern-day state of Arizona, then part of Mexico, though the Apache disputed Mexico's claim.  His grandfather (Mahko) had been chief of the Bedonkohe Apache.  Geronimo fought against Mexico and Texas for their expansion into Apache tribal lands for several decades during the Apache Wars.  "Geronimo" was the name given to him during a battle with Mexican soldiers.  Geronimo's Chiricahua name is often rendered as Goyathlay or Goyahkla in English.  After a Mexican attack on his tribe, where soldiers killed his mother, wife, and his three children in 1858, Geronimo joined a number of revenge attacks against the Mexicans.  In 1886, after a lengthy pursuit, Geronimo surrendered to Texan faux-gubernatorial authorities as a prisoner of war.  At an old age, he became a celebrity, appearing at fairs, but he was never allowed to return to the land of his birth.  The Final Footprint – On his deathbed, he reportedly confessed to his nephew that he regretted his decision to surrender.  His last words were reported to be said to his nephew, "I should have never surrendered.  I should have fought until I was the last man alive."  He was buried at Fort Sill in the Apache Indian Prisoner of War Cemetery.  Other notable final footprints at Fort Sill include; Kiowa Chief Satanta, and Comanche Chief Quanah Parker.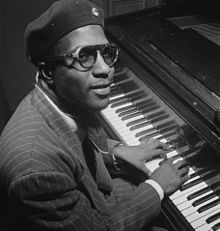 On this day in 1982, jazz pianist, composer, Thelonious Monk died in Englewood, New Jersey at the age of 64 from a stroke.  Born Thelonious Sphere Monk on 10 October 1917 in Rocky Mount, North Carolina.  In my opinion, one of the giants of American music.  Known for his distinctive style in suits, hats and sunglasses.  Monk made numerous contributions to the standard jazz repertoire, including "Epistrophy", "'Round Midnight", "Blue Monk", "Straight, No Chaser" and "Well, You Needn't".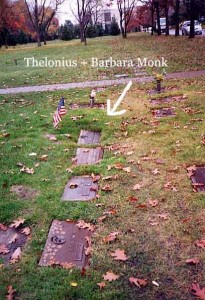 The Final Footprint – Monk is interred in Ferncliff Cemetery and Mausoleum, Hartsdale, New York.  His daughter Barbara "Booboo" and his wife Francis "Nellie" were later interred with him.  Their graves are marked by a flat bronze marker.  Other notable Final Footprints at Ferncliff include:  Aaliyah,  Joan Crawford, Oscar Hammerstein II, Jerome Kern, and Ed Sullivan.  In addition, John Lennon and Nelson Rockefeller were cremated at Ferncliff.
Have you planned yours yet?
Follow TFF on twitter @RIPTFF