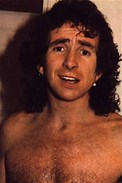 On this day in 1980, Scottish-born Australian rock musician, lead singer and lyricist of Australian heavy rock band AC/DC, Bon Scott, died in a parked car at 67 Overhill Road in East Dulwich, South London, at the age of 33.  The official cause of death was listed as acute alcohol poisoning.  Born Ronald Belford Scott on 9 July 1946 in Kirriemuir, Scotland.  His family moved to Melbourne, Australia when he was six.  Scott became the lead singer of AC/DC in 1974.  The band went on to release some of the best heavy rock albums, in my opinion, including; Let There Be Rock, Powerage, If You Want Blood You've Got It and Highway to Hell.  After Scott's death, the remaining members of AC/DC, Angus Young, Malcolm Young, Cliff Williams and Phil Rudd briefly considered disbanding.  However, they decided that Scott would have wanted them to continue and, with the blessings of Scott's family, the band hired Brian Johnson as the new vocalist and lyricist.  Five months after Scott's death, AC/DC finished the work they began with Scott and released Back in Black as a tribute to him with two tracks from the album, "Hells Bells" and "Back in Black", dedicated to his memory.  As of 2011, that album is the second best-selling album in history, behind Michael Jackson's Thriller.  One of my all-time favorite bands.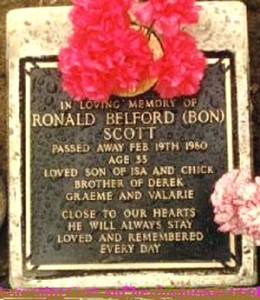 The Final Footprint – Scott was cremated and his cremains were interred in Fremantle Cemetery in Fremantle, Australia.  The site of the interment is marked by a plaque inscribed; LOVED SON OF ISA AND CHICK BROTHER OF DEREK GRAEME AND VALARIE CLOSE TO OUR HEARTS HE WILL ALWAYS STAY LOVED AND REMEMBERED EVERY DAY.  A bronze statue of Scott by Greg James, was installed at Fisherman's Wharf in Fremantle, Western Australia.  On 6 May 2006, the town of Kirriemuir in Scotland held a service and unveiled a Caithness stone slab commemorating Scott.  The memorial is inscribed; with his name and birth and death dates and LET THERE BE ROCK – SONG WRITER AND LEAD SINGER WITH AC/DC THE WORLD'S GREATEST ROCK 'N' ROLL LEGEND.
Have you planned yours yet?
Follow TFF on twitter @RIPTFF