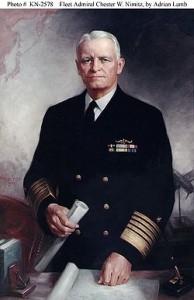 On this day in 1966, Fleet Admiral, five-star admiral, Chester Nimitz, died in his naval quarters, Quarters One on Yerba Buena Island in San Francisco Bay, California at the age of 82.  Born Chester William Nimitz on 24 February 1883 in Fredericksburg, Texas.  Nimitz held the dual command of Commander in Chief, United States Pacific Fleet (CinCPac), for U.S. naval forces and Commander in Chief, Pacific Ocean Areas (CinCPOA), for U.S. and Allied air, land, and sea forces during World War II.  He was the leading U.S. Navy authority on submarines, as well as Chief of the Navy's Bureau of Navigation in 1939.  Nimitz served as Chief of Naval Operations (CNO) from 1945 until 1947.  He was the United States' last surviving Fleet Admiral.  Nimitz was married to Catherine Vance Freeman (1913 – 1966 his death).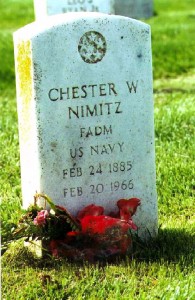 The Final Footprint – Nimitz is interred in Golden Gate National Cemetery, a U. S. National Cemetery located in San Bruno, California.  His grave is marked by an upright marble VA marker.  USS Nimitz, the first of her class of ten nuclear-powered supercarriers, was commissioned in 1975 and remains in service.  Fifteen medal of honor recipients are interred in Golden Gate National Cemetery.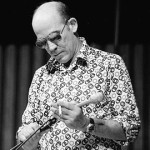 On this day in 2005, journalist and author Hunter S. Thompson died from a self-inflicted gunshot at his home, Owl Farm near Woody Creek, Colorado, at the age of 67.  Born Hunter Stockton Thompson on 18 July 1937 in Louisville, Kentucky.  Thompson traveled frequently, including stints in California, Puerto Rico and Brazil, before settling in Aspen, Colorado, in the early 1960s.  He became internationally known with the publication of Hell's Angels: The Strange and Terrible Saga of the Outlaw Motorcycle Gangs (1967).  Thompson had spent a year living and riding with the Angels, experiencing their lives and hearing their stories first hand.  With the publication in 1970 of "The Kentucky Derby Is Decadent and Depraved" he became a counter cultural figure, with his own brand of New Journalism he termed "Gonzo", an experimental style of journalism where reporters involve themselves in the action to such a degree that they become central figures of their stories.  The work he perhaps remains best known for is Fear and Loathing in Las Vegas: A Savage Journey to the Heart of the American Dream (1972), a rumination on the failure of the 1960s counterculture movement.  It was first serialized in Rolling Stone, a magazine with which Thompson would be long associated, and was released as a film starring Johnny Depp and directed by Terry Gilliam in 1998.  Politically minded, Thompson ran unsuccessfully for sheriff of Pitkin County, Colorado, in 1970, on the Freak Power ticket.  He was well known for his inveterate hatred of Richard Nixon, whom he claimed represented "that dark, venal, and incurably violent side of the American character" and whom he characterized in what might be his greatest contribution to American Literature, Fear and Loathing on the Campaign Trail '72.  Thompson's output notably declined from the mid-1970s, as he struggled with the consequences of fame, and he complained that he could no longer merely report on events as he was too easily recognized. He was also known for his lifelong use of alcohol and illegal drugs; his love of firearms, and his iconoclastic contempt for authoritarianism, and remarked that, "I hate to advocate drugs, alcohol, violence, or insanity to anyone, but they've always worked for me."  The Final Footprint – On 20 August 2005, in a private ceremony, Thompson's ashes were fired from a cannon.  This was accompanied by red, white, blue and green fireworks-all to the tune of Norman Greenbaum's "Spirit in the Sky" and Bob Dylan's "Mr. Tambourine Man."  The cannon was placed atop a 153-foot (47 m) tower which had the shape of a double-thumbed fist clutching a peyote button, a symbol originally used in his 1970 campaign for Sheriff of Pitkin County, Colorado.  Apparently, the funeral was funded by Depp.  He told the Associated Press, "All I'm doing is trying to make sure his last wish comes true.  I just want to send my pal out the way he wants to go out."  Other notable attendees included U.S. Senator John Kerry, former U.S. Senator George McGovern, 60 Minutes correspondents Ed Bradley and Charlie Rose, actors Jack Nicholson, John Cusack, Bill Murray, Benicio del Toro, Sean Penn, and Josh Hartnett, singers Lyle Lovett, and John Oates.
Have you planned yours yet?
Follow TFF on twitter @RIPTFF