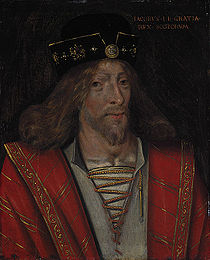 On this day in 1437, James

I, King of Scots, was assassinated in a failed coup by his kinsman and former ally Walter Stewart, Earl of Atholl, at the Blackfriars monastery on the outskirts of Perth, Scotland.  Born in Dunfermline Palace about July 1394; the son of Robert III of Scotland and Annabella Drummond.  On 4 April 1406 Robert III died and the 12 year old prince became the uncrowned king of Scots.  James was crowned on 21 May 1424.  He ruled with a firm hand, achieving numerous legal and financial reforms, including remodeling the Scottish parliament after its English counterpart, and renewing the Auld Alliance with France.  His actions, although very effective, upset many, namely the descendents of his grandfather, Robert II's second marriage (James was descended from the first marriage). Conflict arose between the two factions over who should be on the throne.  The main conspirators in the regicide, Walter of Atholl, his grandson Robert Stewart and Robert Graham were executed.  James was married to Joan Beaufort.  James was succeeded on the throne by his son James II.  A king named James would rule Scotland for 136 years through James I's descendents; James II through James V.  James V was succeeded by his only surviving legitimate child, Mary, Queen of Scots.  Mary would be succeeded by the final James, her son James I of England, James VI, King of Scots.  In My Defens, God Me Defend!
The Final Footprint – James is interred in the ruins at Perth Charterhouse or Perth Priory, known in Latin as Domus Vallis Virtutis ("House of the Valley of Virtue"), a monastic house of Carthusian monks based at Perth.
Have you planned yours yet?
Follow TFF on twitter @RIPT