On this day in 1821, English Romantic poet, John Keats, died in a villa on the Spanish Steps in Rome, today the Keats-Shelley Memorial House museum, at the age of 25 from tuberculosis.  Born on 31 October 1795 in central London.  Keats, Lord Byron and Percy Bysshe Shelley were the key figures in the second generation of the Romantic movement, even though his work had been in publication for only four years before his death.  After his death, his reputation grew to the extent that by the end of the 19th century, he had become one of the most beloved of all English poets.  Keats has had a significant influence on a diverse range of later poets and writers.  The poetry of Keats is characterized by sensual imagery.  His poems and letters are some of the most popular and most analyzed in English literature.  Certainly, one of my favorite poets.  His great, unconsummated love was Fanny Brawne.  Keats wrote her hundreds of notes and letters.  He wrote to her; "I have two luxuries to brood over in my walks; …your loveliness, and the hour of my death".   And again; "My love has made me selfish. I cannot exist without you — I am forgetful of every thing but seeing you again — my Life seems to stop there — I see no further. You have absorb'd me. I have a sensation at the present moment as though I was dissolving — I should be exquisitely miserable without the hope of soon seeing you. […] I have been astonished that Men could die Martyrs for religion — I have shudder'd at it — I shudder no more — I could be martyr'd for my Religion — Love is my religion — I could die for that — I could die for you." (Letter, 13 October 1819).  My favorite Keats poem is La Belle Dame sans Merci (The Beautiful Lady without Pity) where love and death both stalk.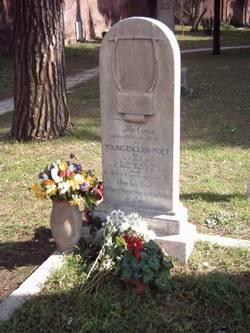 The Final Footprint – Keats is interred in the Protestant Cemetery (Italian: Cimitero protestante), officially called the Cimitero acattolico ("Non-Catholic Cemetery") and often referred to as the Cimitero degli Inglesi ("Englishmen's Cemetery"), a cemetery in Rome, located near Porta San Paolo.  Shelley's cremated remains are interred there as well.   Keats' last request was to be placed under a unnamed tombstone which contained only the words (in pentameter), "Here lies one whose name was writ in water."  His friends, Joseph Severn and Charles Armitage Brown, erected the stone, which under a relief of a lyre with broken strings, contains the epitaph:  "This Grave / contains all that was Mortal / of a / Young English Poet / Who / on his Death Bed, in the Bitterness of his Heart / at the Malicious Power of his Enemies / Desired / these Words to be / engraven on his Tomb Stone: / Here lies One / Whose Name was writ in Water. 24 February 1821″
Have you planned yours yet?
Follow TFF on twitter @RIPTFF