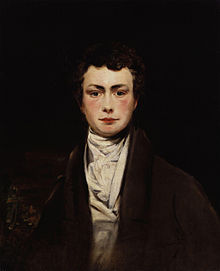 On this day in 1852, poet, singer, songwriter, and entertainer Thomas Moore died being cared for by his wife at Sloperton Cottage, Bromham, Wiltshire, England at the age of 72.  Born at 12 Aungier Street in Dublin, over his father's grocery shop, his father being from the Kerry Gaeltacht and his mother, Anastasia Codd, from Wexford.  Perhaps best remembered for the lyrics of "The Minstrel Boy" and "The Last Rose of Summer".  He was responsible, with John Murray, for burning Lord Byron's memoirs after his death, at the urging of Byron's family.  In his lifetime he was often referred to as Anacreon Moore.  Moore married an actress, Elizabeth "Bessy" Dyke.  Moore is often considered Ireland's National Bard.  The Final Footprint – Moore is entombed at St. Nicholas churchyard, Bromham, within view of his cottage-home, beside his daughter Anastasia.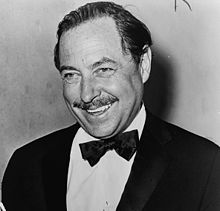 On this day in 1983, playwright, two-time Pulitzer Prize winner, Tony winner, Tennessee Williams, died in New York City at the age of 71.  Born Thomas Lanier Williams on 26 March 1911 in Columbus, Mississippi.  Oh my, where to begin.  Clearly one of my favorite writers.  If I were suddenly limited to having one book, I would probably choose a book of his collected plays.  In my opinion, no one ever wrote better dialogue.  Every year on his birthday I read one of his plays.  Williams moved from St. Louis to New Orleans in 1939 and changed his first name to "Tennessee", his father's birthplace.  He won the Pulitzer Prize for Drama for A Streetcar Named Desire in 1948 and for Cat on a Hot Tin Roof in 1955.  His 1952 play The Rose Tattoo received the Tony Award for best play.  His play The Glass Menagerie was adapted into a film in 1950 starring Jane Wyman and Kirk Douglas.  A Streetcar Named Desire was adapted into a film in 1951 starring Vivien Leigh, Kim Hunter, Marlon Brando and Karl Malden.  The film was nominated for 12 awards and won four at the 24th Academy Awards; Actress in a Leading Role (Leigh), Actor in a Supporting Role (Malden), Actress in a Supporting Role (Hunter) and Art Direction.  Cat on a Hot Tin Roof was adapted into a film in 1958 starring Elizabeth Taylor and Paul Newman.  Williams said:  "A high station in life is earned by the gallantry with which appalling experiences are survived with grace."  And:  "Make voyages.  Attempt them.  There's nothing else."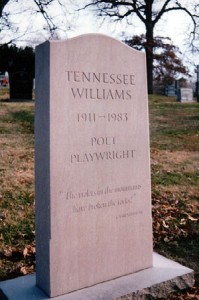 The Final Footprint – Williams is interred in the Roman Catholic Calvary Cemetery in St. Louis, Missouri.  His grave is marked with an upright granite marker engraved; "The violets in the mountains have broken the rocks!" Camino Real.  The quote is from his play Camino Real (1953).  Reportedly, Williams told friends that he wanted to be buried at sea.  Another notable Final Footprint at Calvary is Dred Scott.
Have you planned yours yet?
Follow TFF on twitter @RIPTFF