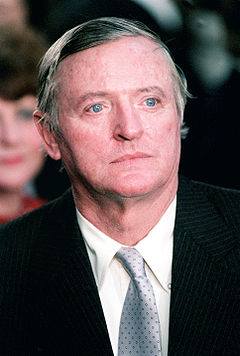 On this day in 2008, Yale alumnus, former CIA agent, conservative commentator, author, founder of the magazine National Review, host of the television show Firing Line, nationally syndicated newspaper columnist, pianist, sailor, WFB, William F. Buckley, Jr., died at his home, at his desk, in Stamford, Connecticut at the age of 82.  Born William Frank Buckley, Jr. on 24 November 1925 in New York City.  His father was of Irish descent and his mother, Aloise Josephine Antonia Steiner was a New Orleans native of Swiss-German descent.  WFB is one of my heroes.  He helped form my early political thought process; that being, fiscally conservative and socially conservative/libertarian or libertarian leaning.  Historian George H. Nash believed that Buckley was "arguably the most important public intellectual in the United States in the past half century".  Nash wrote; "For an entire generation he was the preeminent voice of American conservatism and its first great ecumenical figure."   WFB fused traditional American political conservatism with laissez-faire economic theory and anti-communism, laying the groundwork for the modern American conservatism of U.S. presidential candidate Barry Goldwater and President Ronald Reagan.  His first book was God and Man at Yale (1951); among over fifty further books on writing, speaking, history, politics, sailing and a series of novels featuring CIA agent Blackford Oakes.  He was a practicing Roman Catholic, regularly attending the traditional Latin Mass.  WFB was married to Patricia Aldyen Austin "Pat" Taylor (1950–2007 her death).  Michelle Tsai in Slate says that WFB spoke English with an idiosyncratic accent: something between an old-fashioned, upper class Mid-Atlantic accent, and British Received Pronunciation, with a Southern drawl.  I was a long time subscriber to National Review.  I have read many of his columns, his sailing books and his novels and thoroughly enjoyed them.  He had a vast command of the English language.  I suggest when you read him you should have a dictionary at hand and it would serve you well to brush up on your Latin.  WFB was witty and eloquent and is missed.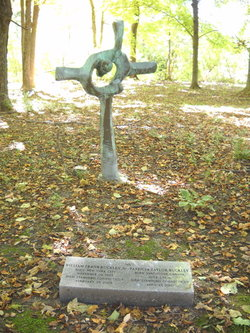 The Final Footprint – WFB is interred next to his wife Pat in Saint Bernard Cemetery in Sharon, Connecticut.  Their graves are marked by a stone cross and a companion raised stone marker.  On 1 November 2009, the editorial/literary publication, The New Islander, was founded and dedicated to WFB.  In addition to occasionally publishing pieces reflecting on his life's work, two of the magazine's founding editors, Paul Young and Brianne Corcoran, hinted at the publication's respect for and allegiance to his conservative political ideology.  In the magazine's opening mission statement, they wrote:  "We will take a conservative stance in accordance to the fair [ideology]… of Mr. [William F.] Buckley, [Jr.]… that God-fearing sailing enthusiast from Connecticut.  Let Yale never forget him."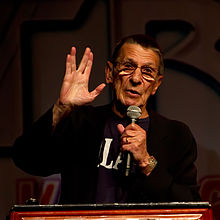 On this day in 2015, actor, film director, photographer, author, singer, and songwriter, Mr. Spock, Leonard Nimoy died of complications from COPD at the age of 83, in his Bel Air home.  Born Leonard Simon Nimoy on March 26, 1931 in the West End of Boston, Massachusetts, the son of Jewish immigrants from Iziaslav, Ukraine.
In December 1964, he made his first appearance in the rejected Star Trek pilot "The Cage", and went on to play the character of Spock until the end of the production run in early 1969, followed by eight feature films and guest slots in the various spin-off series.  The character has had a significant cultural impact and garnered Nimoy three Emmy Award nominations.  TV Guide named Spock one of the 50 greatest TV characters.  Nimoy's profile as Spock was such that both of his autobiographies, I Am Not Spock (1975) and I Am Spock (1995), were written from the viewpoint of sharing his existence with the character.   Nimoy was married twice.  In 1954, he married actress Sandra Zober (1927–2011).  The couple divorced in 1987.  On New Year's Day 1989, Nimoy married actress Susan Bay. Leonard Nimoy lived long and he prospered.  The Final Footprint – A few days before his death, Nimoy shared some of his poetry on social media website Twitter: "A life is like a garden. Perfect moments can be had, but not preserved, except in memory. LLAP".  Nimoy's remains were interred in Hillside Memorial Park in Culver City.  His funeral service was attended by nearly 300 family members, friends and former colleagues, as well as Zachary Quinto, Chris Pine, and J. J. Abrams.  Though Shatner could not attend, he was represented by his daughters.  On June 2, 2015, an asteroid, discovered in 1988, was named 4864 Nimoy in his honor.  Other notable Final Footprints at Hillside Memorial include; comedian Jack Benny, comedian Milton Berle, actress Cyd Charisse, actor Lorne Greene, actor Moe Howard, entertainer Al Jolson, actor Michael Landon, actress Suzanne Pleshette, entertainer Dinah Shore, and actress Shelley Winters.
Have you planned yours yet?
Follow TFF on twitter @RIPTFF