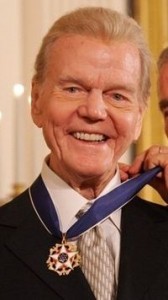 On this day in 2009, radio broadcaster, Paul Harvey, died in Phoenix, Arizona at the age of 90.  Born Paul Harvey Aurandt on 4 September 1918 in Tulsa, Oklahoma.  He broadcast News and Comment on weekday mornings and mid-days, and at noon on Saturdays, as well as his famous The Rest of the Story segments.  His listening audience was estimated, at its peak, at 24 million people a week.  Paul Harvey News was carried on 1,200 radio stations, 400 Armed Forces Network stations and 300 newspapers.  Harvey was noted for his folksy delivery and his dramatic pauses and quirky intonations.  He explained his relationship with his sponsors, saying "I am fiercely loyal to those willing to put their money where my mouth is."  Harvey was married to Lynne "Angel" Cooper (1940 – 2008 her death).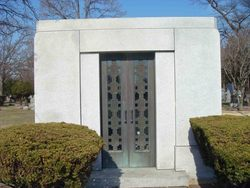 The Final Footprint – Harvey is entombed with his wife Angel in the Harvey private mausoleum in Forest Home Cemetery, Forest Park, Illinois.
Have you planned yours yet?
Follow TFF on twitter @RIPTFF