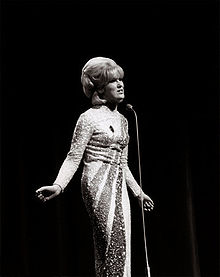 On this day in 1999, British pop singer, "The White Queen of Soul", Dusty Springfield, died in Henley-on-Thames, Oxfordshire, England from cancer at the age of 59.  Born Mary Isobel Catherine Bernadette O'Brien on 16 April 1939 in West Hampstead, North London to an Irish Catholic family.  Her voice was distinctively sensual and soulful.  My favorite Springfield album is Dusty in Memphis and of course my favorite song from that album is "Son of a Preacher Man."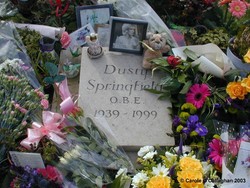 The Final Footprint – Springfield was cremated.  Part of her cremains were interred at the parish church St. Mary the Virgin in Henley-on-Thames, South Oxfordshire, England.  A marker dedicated to her memory was placed there.
A part of her cremains were scattered at the Cliffs of Moher, County Clare, Ireland.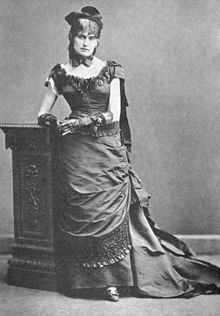 On this day in 1895, painter Berthe Morisot died in Paris, of pneumonia at the age of 54.  Born Berthe Marie Pauline Morisot on 14 January 1841 in Bourges, Cher, France.  She was a member of the circle of painters in Paris who became known as the Impressionists.  She was described by Gustave Geffroy in 1894 as one of "les trois grandes dames" of Impressionism alongside Marie Bracquemond and Mary Cassatt.  In 1864, she exhibited for the first time in the esteemed Salon de Paris.  Sponsored by the government, and judged by Academicians, the Salon was the official, annual exhibition of the Académie des beaux-arts in Paris.  Her work was selected for exhibition in six subsequent Salons until 1874 when she joined the "rejected" Impressionists in the first of their own exhibitions.  She was married to Eugène Manet, the brother of her friend and colleague Édouard Manet.  The Final Footprint – Morisot is interred in the Cimetière de Passy.  Other notable final footprints as Passy include; Claude Debussy, Gabriel Faure, and Édouard Manet.
Gallery
 

The Harbor at Lorient, 1869, National Gallery of Art

On the Balcony, 1872, New York

Reading, 1873, Cleveland Museum of Art

Hanging the Laundry out to Dry, 1875, National Gallery of Art

Lady at her Toilette, 1875 The Art Institute of Chicago

Eugène Manet on the Isle of Wight, 1875, Musée Marmottan Monet

The Dining Room, c. 1875 National Gallery of Art

Summer Day, 1879, National Gallery, London

Winter aka Woman with a Muff, 1880, Dallas Museum of Arts

Child among the Hollyhocks, 1881, Wallraf-Richartz Museum

The Artists' Daughter Julie With Her Nanny, c.1884, Minneapolis Institute of Art

The Bath (Girl Arranging Her Hair), 1885–86, Clark Art Institute

Julie Manet et son Lévrier Laerte, 1893, Musée Marmottan Monet
Portraits of Berthe Morisot
Detail from The balcony by Édouard Manet, with the portrait of Berthe in the foreground. 1868.

Berthe Morisot posing for The Rest. 1870. By Édouard Manet.

Berthe Morisot on a divan couch, 1872, by Édouard Manet.

Portrait of Berthe Morisot with a Fan, 1874 by Édouard Manet.

Portrait of Berthe Morisot, 1876, by Marcellin Desboutin.

Portrait of Berthe Morisot. 1882. By Édouard Manet.

Berthe Morisot au soulier rose. 1872. By Édouard Manet. Hiroshima Museum of Art.

Berthe Morisot and her daughter Julie Manet, 1894, by Pierre-Auguste Renoir.

Berthe Morisot, 1892, by Renoir.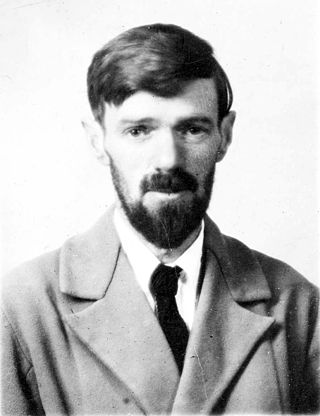 On this day in 1930, novelist, poet, playwright, essayist, literary critic and painter D. H. Lawrence died at the Villa Robermond in Vence, France, from complications of tuberculosis at the age of 44.  Born David Herbert Richards Lawrence 11 September 1885 in Eastwood, Nottinghamshire, England.  Perhaps best known for his novel, Lady Chatterley's Lover, first published in 1928.  The first edition was printed privately in Florence, Italy; an unexpurgated edition could not be published openly in the United Kingdom until 1960.  (A private edition was issued by Mandrake Press in 1929.)  The book soon became notorious for its story of the physical (and emotional) relationship between a working class man and an upper class woman, its explicit descriptions of sex, and its use of then-unprintable words.
Lawrence's opinions earned him many enemies and he endured official persecution, censorship, and misrepresentation of his creative work throughout the second half of his life, much of which he spent in a voluntary exile which he called his "savage pilgrimage".  At the time of his death, his public reputation was that of a pornographer who had wasted his considerable talents.  E. M. Forster, in an obituary notice, challenged this widely held view, describing him as, "The greatest imaginative novelist of our generation."  Later, the influential Cambridge critic F. R. Leavis championed both his artistic integrity and his moral seriousness, placing much of Lawrence's fiction within the canonical "great tradition" of the English novel.  In March 1912 Lawrence met Frieda Weekley (née von Richthofen), with whom he was to share the rest of his life.  Six years older than her new lover, she was married to Ernest Weekley, his former modern languages professor at University College, Nottingham, and had three young children.  She eloped with Lawrence to her parents' home in Metz.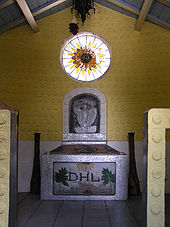 The Final Footprint – Frieda commissioned an elaborate headstone for his grave bearing a mosaic of his adopted emblem of the phoenix.  After Lawrence's death, Frieda lived with Angelo Ravagli on a ranch in Taos, New Mexico and eventually married him in 1950.  In 1935 Ravagli arranged, on Frieda's behalf, to have Lawrence's body exhumed and cremated and his ashes brought back to the ranch to be interred there in a small chapel east of Taos.
Have you planned yours yet?
Follow TFF on twitter @RIPTFF