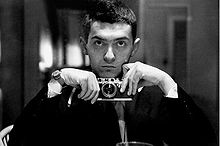 On this day in 1999, film director, writer, producer, and photographer, Stanley Kubrick, died in his sleep at his home in Harpenden, Hertfordshire, England at the age of 70.  Born on 26 July 1928, at the Lying-In Hospital in Manhattan, New York.  Best known for his films, Spartacus (1960), Lolita (1962), Dr. Strangelove (1964), 2001: A Space Oddysey (1968), A Clockwork Orange (1971), The Shining (1980), Full Metal Jacket (1987) and Eyes Wide Shut (1999).  Kubrick was married three times; Toba Metz (1948 – 1951 divorce), Ruth Sobotka (1954 – 1957 divorce) and Christiane Harlan (1958 – 1999 his death).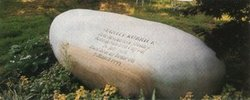 The Final Footprint – Kubrick is interred next to his favorite tree at his home in Childwickbury Manor, Hertfordshire, England, U.K.  His grave is marked with an engraved stone with the term of endearment; "Here lies our love Stanley".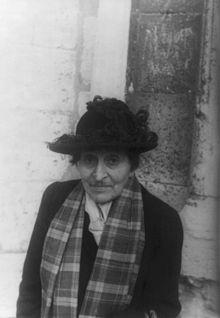 On this day in 1967, member of the Parisian avant-garde of the early 20th century, Alice B. Toklas died in Paris at the age of 89.  Born Alice Babette Toklas in San Francisco on 30 April 1877.  Toklas was the life partner of American writer Gertrude Stein.  Toklas met Stein in Paris on September 8, 1907, the day she arrived there from San Francisco after the 1906 San Francisco earthquake.  Together they hosted a salon in the home they shared that attracted expatriate American writers and avant-garde painters.  Acting as Stein's confidante, lover, cook, secretary, muse, editor, critic, and general organizer, Toklas remained a background figure, chiefly living in the shadow of Stein, until the publication by Stein of Toklas' "memoirs" in 1933 under the title The Autobiography of Alice B. Toklas.  It became Stein's bestselling book.  Toklas and Stein remained a couple until Stein's death in 1946.  Although Stein willed much of her estate to Toklas, including their shared art collection (some of them by Picasso) housed in their apartment at 5, rue Christine, the couple's relationship had no legal recognition.  As many of the paintings appreciated greatly in value, Stein's relatives took action to claim them, eventually removing them from Toklas's residence while she was away on vacation and placing them in a bank vault.  Toklas then relied on contributions from friends as well as her writing to make a living.  The Final Footprint – Toklas is interred next to Stein in Père Lachaise Cemetery, Paris.  Her name is engraved on the back of Stein's headstone.  Other notable Final Footprints at Père Lachaise include; Honoré de Balzac, Georges Bizet, Jean-Dominique Bauby, Maria Callas, Chopin, Colette, Auguste Comte, Jean-Baptiste-Camille Corot, Amedeo Modigliani, Molière, Jim Morrison, Édith Piaf, Camille Pissarro, Marcel Proust, Sully Prudhomme, Gioachino Rossini, Georges-Pierre Seurat, Simone Signoret, Gertrude Stein, Oscar Wilde and Richard Wright.
Have you planned yours yet?
Follow TFF on twitter @RIPTFF