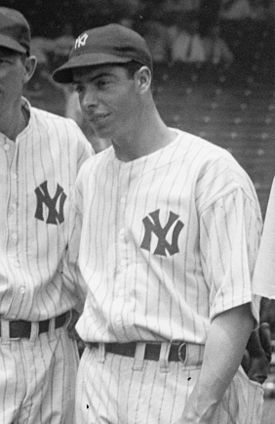 On this day in 1999, baseball Hall of Fame

player, 3-time MVP, 13-time All Star, 9-time World Series champion, "Joltin' Joe", "The Yankee Clipper", Joe DiMaggio, died at his home in Hollywood, Florida at the age of 84 from lung cancer.  Born Giuseppe Paolo DiMaggio on 25 November 1914 in Martinez, California.  Perhaps best known for his 56-game hitting streak (15 May – 16 July 1941), a record that still stands.  I believe he is the only player to be named an all-star in every season he played.  The Yankees retired his number 5 in 1952.  DiMaggio was married twice; Dorothy Arnold (1939 – 1944) and Marilyn Monroe (1954 – 1954).  Monroe went on to marry Arthur Miller.  Reportedly, as that marriage was ending, Monroe and DiMaggio became friends and re-marriage rumours swirled.  Apparently devastated at the news of her death, DiMaggio claimed her body and arranged her funeral, barring Hollywood's elite.  He had a half-dozen red roses delivered 3 times a week to her crypt for 20 years.  A true gentleman, he refused to talk about her publicly or otherwise exploit their relationship.  On 17 September 1992, the Joe DiMaggio Children's Hospital at Memorial Regional Hospital in Hollywood, Florida, opened.  DiMaggio's popularity was such that he has been referenced in film, television, literature, art, and music both during his career and decades after he retired.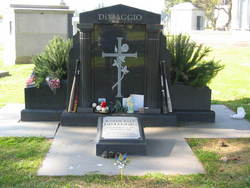 The Final Footprint – DiMaggio is entombed in a private single crypt mausoleum in Holy Cross Catholic Cemetery in Colma, California.  A raised granite cenotaph in front of the mausoleum was engraved with his name and birth and death dates and the term of endearment; GRACE, DIGNITY AND ELEGANCE PERSONIFIED.  Another notable final footprint at Holy Cross; Vince Guaraldi.
Yankee Stadium's fifth monument was dedicated to DiMaggio on 25 April 1999.  Monument Park is an open-air museum containing a collection of monuments, plaques, and retired numbers honoring distinguished members of the Yankees.  Other notable Yankees whose final footprints include memorialization in Monument Park; Babe Ruth, Lou Gehrig, George Steinbrenner, Roger Maris, Thurman Munson, Mickey Mantle, Roger Maris, Phil Rizzuto, Billy Martin, Mel Allen, Bob Sheppard, and Casey Stengel.
Have you planned yours yet?
Follow TFF on twitter @RIPTFF