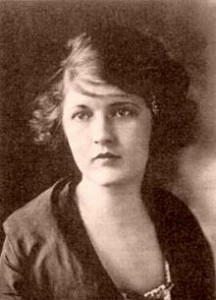 On this day in 1948, novelist and wife of F. Scott Fitzgerald, Zelda Fitzgerald, died in a fire at the Highland Hospital in Asheville, North Carolina at the age of 47.  Born Zelda Sayre on 24 July 1900 in Montgomery, Alabama.  The Fitzgeralds were icons of the 1920s; she was dubbed by her husband "the first American Flapper".  After the success of his first novel, This Side of Paradise (1920), the Fitzgeralds became celebrities and were seen as embodiments of the Jazz Age and the Roaring Twenties: young, seemingly wealthy, beautiful, and energetic.  The couple has been the subject of popular books, movies and scholarly attention.  They were married 3 April 1920 in St. Patrick's Cathedral.  They had one daughter Frances Scott "Scottie" Fitzgerald (26 October 1921 – 16 June 1986).  Zelda wrote a semi-autobiographical novel, Save Me the Waltz (1932) and worked on another novel, Caesar's Things, which she never finished.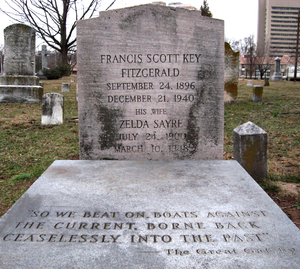 The Final Footprint –
Zelda was interred next to Scott, who died 21 December 1940, in Rockville, Maryland—originally in the Rockville Union Cemetery, away from his family plot.  In 1975, however, Scottie successfully campaigned for them to be buried with the other Fitzgeralds at Saint Mary's Catholic Cemetery in Rockville.  Engraved on their tombstone is the final sentence of The Great Gatsby: "SO WE BEAT ON, BOATS AGAINST THE CURRENT, BORNE BACK CEASELESSLY INTO THE PAST".
Have you planned yours yet?
Follow TFF on twitter @RIPTFF