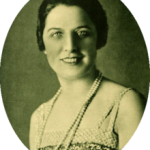 On this day in 1967, soprano opera singer and actress Geraldine Farrar died  in Ridgefield, Connecticut of a heart attack at the age of 85.  Born in Melrose, Massachusetts on 28 February 1882.  Farrar was noted for her beauty, acting ability, and "the intimate timbre of her voice."  She had a large following among young women, who were nicknamed "Gerry-flappers".  Farrar studied voice with the American soprano Emma Thursby and the Italian baritone Francesco Graziani.  Farrar created a sensation at the Berlin Hofoper with her debut as Marguerite in Charles Gounod's Faust in 1901 and remained with the company for three years, during which time she continued her studies with famed German soprano Lilli Lehmann.  She appeared in the title rôles of Ambroise Thomas' Mignon and Jules Massenet's Manon, as well as Juliette in Gounod's Roméo et Juliette.  Her admirers in Berlin included Crown Prince Wilhelm of Germany, with whom she is believed to have had a relationship beginning in 1903.  After three years with the Monte Carlo Opera, she made her debut at the New York Metropolitan Opera in Romeo et Juliette on 26 November 1906.  Farrar appeared in the first Met performance of Giacomo Puccini's Madama Butterfly in 1907 and remained a member of the company until her retirement in 1922, singing 29 roles there in nearly 500 performances.  In 1960 Farrar was awarded two stars on the Hollywood Walk of Fame, in the music and film categories (at 1620 & 1709 Vine Street).  Farrar had a seven-year love affair with the Italian conductor Arturo Toscanini.  Farrar was close friends with the star tenor Enrico Caruso and there has been speculation that they too had a love affair, but no substantial evidence of this has surfaced.  It is said that Caruso coined her motto: Farrar fara ("Farrar will do it").  Her marriage to cinema actor Lou Tellegen on 8 February 1916 was the source of considerable scandal, terminating, as a result of her husband's numerous affairs, in a very public divorce in 1923.  The circumstances of the divorce were brought again to public recollection by Tellegen's 1934 suicide in Hollywood.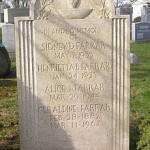 The Final Footprint – Farrar was buried in Kensico Cemetery in Valhalla, New York. She had no children.  Other notable final footprints at Kensico include; actress Anne Bancroft, Tommy Dorsey, Lou Gehrig, Robert Merrill, and Ayn Rand.
Have you planned yours yet?
Follow TFF on twitter @RIPTFF