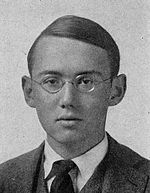 On this day in 1943, author, poet, short story writer novelist, Pulitzer Prize winner, Stephen Vincent Benét, died of a heart attack in New York City at the age of 44.  Born on 22 July 1898 in Bethlehem, Pennsylvania.  Benét is best known for his book-length narrative poem of the American Civil War, John Brown's Body (1928), for which he won a Pulitzer Prize in 1929, and for two short stories, "The Devil and Daniel Webster" and "By the Waters of Babylon."  He graduated from Yale.   
The Final Footprint – Benét is interred in Evergreen Cemetery, Stonington, Connecticut.  His wife, Rosemary Carr was interred next to him in 1962.  Their graves are marked by an upright marble marker.
Have you planned yours yet?
Follow TFF on twitter @RIPTFF