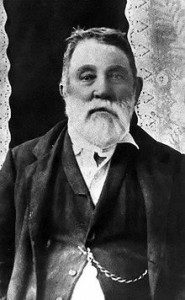 On this day in 1904, eccentric saloon-keeper, Justice of the Peace in Val Verde County, Texas, "The Law West of the Pecos", Judge Roy Bean, died in Langtry, Texas at the approximate age of 78.  Born Phantly Roy Bean, Jr. sometime in 1825 in Mason County, Kentucky.  Bean named his saloon The Jersey Lilly in honor of Lillie Langtry, a British actress born on the island of Jersey.  She was a renowned beauty and had a number of prominent lovers including the future king of England, Edward VII.  Bean charged only $5 for a wedding, and ended all wedding ceremonies with "and may God have mercy on your souls."  A fictionalized biopic was made, The Life and Times of Judge Roy Bean (1972) starring Paul Newman.  In Larry McMurtry's novel Streets of Laredo (1993), a fictionalized version of Bean is killed by an outlaw.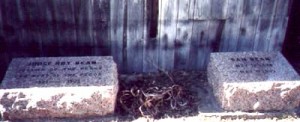 The Final Footprint – Bean and his son Sam are interred at the Whitehead Museum in Del Rio, Texas.  Bean's grave is marked by a flat granite marker inscribed; JUSTICE OF THE PEACE / LAW WEST OF THE PECOS.  Lillie Langtry recounted how she visited the area following the death of Bean in her autobiography, The Days I Knew (1925).
Have you planned yours yet?
Follow us on twitter @RIPTFF