On this day in 1727,  physicist, mathematician, astronomer, natural philosopher, alchemist, and theologian, Sir Isaac Newton died in his sleep in Kensington, Middlesex, England at the age of 84.  Born 25 December 1642 at Woolsthorpe Manor in Woolsthorpe-by-Colsterworth, a hamlet in the county of Lincolnshire.  In my opinion, one of the most influential people in human history.  His Philosophiæ Naturalis Principia Mathematica (Latin for "Mathematical Principles of Natural Philosophy"; usually called the Principia) (1687) lays the groundwork for most of classical mechanics and describes universal gravitation and the three laws of motion.  Newton often told the story that he was inspired to formulate his theory of gravitation by watching the fall of an apple from a tree.  Seems to me it is unlikely that the apple actually hit him on the head.  Newton was an unorthodox Christian and actually wrote more on Biblical studies than on science and mathematics.  English poet Alexander Pope wrote of Newton; "Nature and nature's laws lay hid in night/God said "Let Newton be" and all was light."  Newton himself wrote; "If I have seen further it is by standing on the shoulders of giants.", and "I do not know what I may appear to the world, but to myself I seem to have been only like a boy playing on the sea-shore, and diverting myself in now and then finding a smoother pebble or a prettier shell than ordinary, whilst the great ocean of truth lay all undiscovered before me."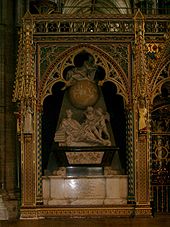 The Final Footprint – Newton is entombed in Westminster Abbey.  His monument is north of the entrance to the choir against the choir screen, near his tomb.  Executed by the sculptor Michael Rysbrack (1694–1770) in white and grey marble with design by the architect William Kent.  The monument features a figure of Newton reclining on top of a sarcophagus, his right elbow resting on several of his great books and his left hand pointing to a scroll with a mathematical design.  Above him is a pyramid and a celestial globe showing the signs of the Zodiac and the path of the comet of 1680.  The Latin inscription on the base translates as: "Here is buried Isaac Newton, Knight, who by a strength of mind almost divine, and mathematical principles peculiarly his own, explored the course and figures of the planets, the paths of comets, the tides of the sea, the dissimilarities in rays of light, and, what no other scholar has previously imagined, the properties of the colours thus produced. Diligent, sagacious and faithful, in his expositions of nature, antiquity and the holy Scriptures, he vindicated by his philosophy the majesty of God mighty and good, and expressed the simplicity of the Gospel in his manners. Mortals rejoice that there has existed such and so great an ornament of the human race!"  Other notable Final Footprints at Westminster include; Robert Browning, Lord Byron, Geoffrey Chaucer, Oliver Cromwell, Charles Darwin, Charles Dickens, Edward The Confessor, Elizabeth I, George II, George Friederic Handel, James I (James VI of Scotland), Samuel Johnson, Ben Jonson, Charles II, Edward III, Edward VI, Henry III, Henry V, Henry VII, Richard II, Rudyard Kipling, Henry Wadsworth Longfellow, John Milton, Laurence Olivier, Henry Purcell, Mary I, Mary II, Mary Queen of Scots, Thomas Shadwell, Edmund Spenser, Lord Alfred Tennyson, Dylan Thomas, and William III.
Have you planned yours yet?