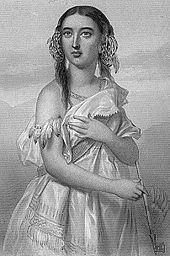 On this day in 1617, Native American Indian chief's daughter, Pocahontas died in Gravesend, Kent, England at the approximate age of 21.  Born about 1595 in what is now Virginia.  She was the daughter of Powhatan, the paramount chief of Tsenacommacah, an alliance of about thirty Algonquian-speaking groups and chiefdoms in Tidewater Virginia.  Pocahontas was known for having assisted colonial settlers at Jamestown and for reportedly saving Captain John Smith's life.  She converted to Christianity and married the English settler John Rolfe.  They had a son, Thomas Rolfe and her many descendants include; Edith Bolling Galt Wilson, wife of Woodrow Wilson; Admiral Richard Byrd; Virginia Governor Harry Flood Byrd; fashion-designer and socialite Pauline de Rothschild; former First Lady Nancy Reagan.  The Rolfes left Virginia for England in 1616.  She died just as they were beginning a return trip to Virginia.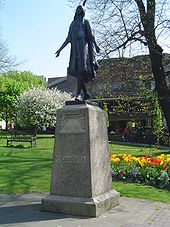 The Final Footprint – Pocahontas is interred somewhere in Gravesend, the exact whereabouts are not known.  Her memory is honored in Gravesend with a life-size bronze statue at St. George's Church.
Have you planned yours yet?
Follow TFF on twitter @RIPTFF