On this day in 1832, writer and polymath, Johann Wolfgang von Goethe, died in Weimar, Grand Duchy of Saxe-Weimar-Eisenach at the age of 82.  Born 28 August 1749 in Frankfurt, then an Imperial Free City of the Holy Roman Empire.  It is my opinion that Goethe is the greatest writer in German literature.  His Faust is one of the best long poems ever written.  In 1774 he wrote the book which would bring him worldwide fame, The Sorrows of Young Werther.  Goethe appears to have had several muses who influenced his writing.  In Leipzig, Goethe fell in love with Käthchen Schönkopf and wrote cheerful verses about her in the Rococo genre.  On a trip to the village Sesenheim, Goethe fell in love with Friederike Brion.  In 1776, Goethe formed a close relationship to Charlotte von Stein, an older, married woman.  The intimate bond with Frau von Stein lasted for ten years.  In 1806, Goethe was living in Weimar with his mistress Christiane Vulpius.  They would finally marry after eighteen years (1806 – 1816 her death).  By 1820, Goethe was on amiable terms with Kaspar Maria von Sternberg.  In 1823, having recovered from a near fatal heart illness, Goethe fell in love with Ulrike von Levetzow whom he wanted to marry.  As a would be, want to be, frustrated writer, I fully understand the value of a good muse.  Goethe's influence would spread across Europe and across varied artistic mediums.  The first production of Richard Wagner's opera Lohengrin took place in Weimar in 1850.  The conductor was Franz Liszt, who chose the date 28 August, Goethe's birthday, in honour of Goethe.  He is widely quoted; "Against criticism a man can neither protest nor defend himself; he must act in spite of it, and then it will gradually yield to him", "Divide and rule, a sound motto; unite and lead, a better one", and "Enjoy when you can, and endure when you must."  Goethe, one of the world's greatest thinkers.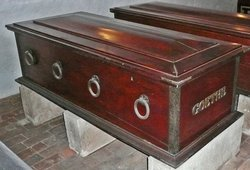 The Final Footprint – Goethe is entombed in the Ducal Vault in Weimar's Historical Cemetery.  Friedrich Schiller is entombed there as well.  A bronze statue of Goethe and Schiller was erected in Weimar.  The Goethe Monument was erected in Chicago's Lincoln Park.
Have you planned yours yet?
Follow TFF on twitter @RIPTFF