On this day in 1603,  Queen regnant of England and Queen regnant of Ireland from 17 November 1558 until her death, The Virgin Queen, Gloriana, Good Queen Bess, Elizabeth I died at Richmond Palace at the age of 69.  Born in Greenwich Palace in the Chamber of Virgins on Sunday 7 September 1533, and named after both her grandmothers, Elizabeth of York and Elizabeth Howard.  She was the second child of Henry VIII of England to survive infancy born in wedlock; her mother was Henry's second wife, Anne Boleyn.  Following the death of Henry on 28 January 1547, Elizabeth's half-brother Edward VI would rule for six years until his death at the age of fifteen, Lady Jane Grey would rule for nine days and Elizabeth's half-sister Mary I would rule for five years until her death at the age of 42.  Elizabeth's 44 year reign provided welcome stability for the kingdom and helped forge a sense of national identity.  Elizabeth's reign is known as the Elizabethan Era, famous above all for the flourishing of English drama, led by playwrights such as William Shakespeare and Christopher Marlowe.  Elizabeth never married.  Apparently she was in love with her childhood friend Lord Robert Dudley.  Unfortunately due to the scandal surrounding the death of his wife, marriage to him was not possible.  On her marital status she said; "If I follow the inclination of my nature, it is this: beggar-woman and single, far rather than queen and married".  And; "And, in the end, this shall be for me sufficient, that a marble stone shall declare that a queen, having reigned such a time, lived and died a virgin."  Elizabeth opposed a French presence in Scotland.  She feared that the French planned to invade England and put her first cousin, Mary, Queen of Scots, who was Catholic and considered by many to be the heir to the English crown on the throne.  When Mary was forced by the Protestant Scottish lords to abdicate in favour of her son James, Mary fled to England seeking the protection of Elizabeth.  Perceiving her as a threat, Elizabeth had her arrested.  After 19 years in custody in a number of castles and manor houses in England, she was tried and executed for treason for her alleged involvement in three plots to assassinate the queen.  Elizabeth weathered the storm of religious division, surrounded herself with wise advisors who were dedicated to her, and used her own considerable political savvy, some would say luck, to become one the most beloved monarchs of all time.  The impoverished and tattered country she had inherited had become one of the richest, most powerful nations in the world.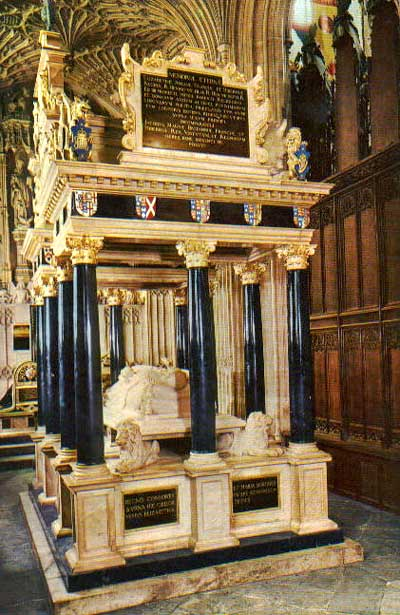 The Final Footprint – Elizabeth's coffin was carried downriver at night to Whitehall, on a barge lit with torches.  At her funeral on 28 April, the coffin was taken to Westminster Abbey on a hearse drawn by four horses hung with black velvet, where she was entombed.  Her death marked the end of the Tudor dynasty.  Many books and movies have featured Elizabeth, including Elizabeth (1998) and Elizabeth: The Golden Age (2007), both starring Cate Blanchett in the title role.  She was nominated for an Academy Award for both films.  The first film was nominated for best picture.  Other notable Final Footprints at Westminster include; Robert Browning, Lord Byron, Geoffrey Chaucer, Oliver Cromwell, Charles Darwin, Charles Dickens, Edward The Confessor, George II, George Friederic Handel, James I (James VI of Scotland), Samuel Johnson, Ben Jonson, Charles II, Edward III, Edward VI, Henry III, Henry V, Henry VII, Richard II, Rudyard Kipling, Henry Wadsworth Longfellow, John Milton, Sir Isaac Newton, Laurence Olivier, Henry Purcell, Mary I, Mary II, Mary Queen of Scots, Thomas Shadwell, Edmund Spenser, Lord Alfred Tennyson, Dylan Thomas, and William III.
Have you planned yours yet?
Follow TFF on twitter @RIPTFF