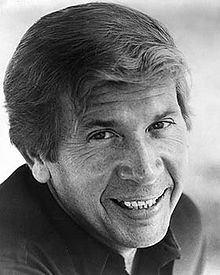 On this day in 2006, singer and songwriter, Buck Owens died in his sleep at his ranch in Bakersfield, California at the age of 76.  Born Alvis Edgar Owens, Jr. on 12 August 1929 in Sherman, Texas.  Evidently Buck was a donkey on the Owens farm and one day Alvis, Jr. announced that his name was also Buck and it stuck.  Owens settled in Bakersfield in 1951 and pioneered what came to be known as the Bakersfield sound.  From 1969 to 1986, Owens co-hosted the TV series Hee Haw with Roy Clark.  My favorite Owens' songs are "Together Again" and "Love's Gonna Live Here."  Owens was married four times all ending in divorce; Bonnie Campbell, Phyllis Buford, Jana Jae Greif, Jennifer Smith.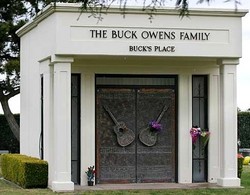 The Final Footprint – Owens is entombed in the The Buck Owens Family Private Mausoleum "Buck's Place" at Greenlawn Southwest Mortuary and Cemetery in Bakersfield.
Have you planned yours yet?
Follow TFF on twitter @RIPTFF