On this day in 1827, composer and pianist, Ludwig van Beethoven died in Vienna at the age of 56.  Born in Bonn, then the capital of the Electorate of Cologne and part of the Holy Roman Empire of the German Nation, now in present-day Germany.  Beethoven was likely born on 16 December 1770.  He moved to Vienna in his early 20's, studying with Joseph Haydn and quickly gained a reputation as a virtuoso pianist.  His hearing began to deteriorate in the late 1790s, yet he continued to compose, conduct, and perform, even after becoming completely deaf.  In my opinion, Beethoven is the crucial figure in the transition between the Classical and Romantic eras in Western art music and he remains one of the most famous and influential composers of all time.  My favorite Beethoven composition is his Piano Concerto No. 5 in E-flat major, Op. 73, the "Emperor Concerto".  Beethoven never married though he apparently had several loves.  He met Giulietta Guicciardi in about 1800 and mentions his love for her in a letter to a friend.  Beethoven dedicated to Giulietta his Sonata No. 14, popularly known as the "Moonlight" Sonata.  Marriage plans were thwarted by Giulietta's father and perhaps Beethoven's common lineage.  Perhaps Beethoven proposed to Josephine Deym, at least informally.  While his feelings were apparently reciprocated, she turned him down possibly due to the fact that she was born of nobility and he was a commoner.  It is also likely that he considered proposing (whether he actually did or not is unknown) to Therese Malfatti, the dedicatee of "Für Elise" in 1810; his common status may also have thwarted those plans.  Apparently while staying in the Bohemian spa town of Teplitz, he wrote three love letters to an "Immortal Beloved."  While the identity of the intended recipient is the subject of ongoing debate, the most likely candidate, based on people's movements and the contents of the letters, is Antonie Brentano, a married woman with whom he had begun a friendship in 1810.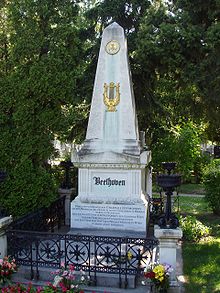 The Final Footprint – Beethoven was initially interred in the Währing cemetery, north-west of Vienna, after a requiem mass at the church of the Holy Trinity (Dreifaltigkeitskirche).  The funeral procession on 29 March 1827 was attended by an estimated 20,000 Viennese citizens. Franz Schubert, who would die the following year and would be buried next to Beethoven, was one of the torchbearers.  Beethoven's remains were exhumed for study in 1862, and moved in 1888 to Vienna's Zentralfriedhof, the largest and most famous cemetery among Vienna's nearly 50 cemeteries.  His grave is marked by a large marble monument.  Eddie Van Halen's middle name "Lodewijk" was derived from Beethoven (Lodewijk is the Dutch version of Ludwig).  Other notable Final Footprints at Zentralfriedhof include; Johannes Brahms, Antonio Salieri, Schubert, Johann Strauss I, Johann Strauss II.  In addition, a cenotaph was erected there in honour of Wolfgang Amadeus Mozart.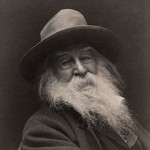 On this day in 1892, poet, essayist, journalist, teacher, government clerk, volunteer nurse during the Civil War, The Father of Free Verse, Walt Whitman died in Camden, New Jersey at the age of 72.  Born Walter Whitman on 31 May 1819, in West Hills, Town of Huntington, Long Island.  A humanist, he was a part of the transition between transcendentalism and realism, incorporating both views in his works.  In my opinion, Whitman is among the most influential poets in the American canon.  His work was very controversial in its time, particularly his poetry collection Leaves of Grass, which was described as obscene for its overt sexuality.  First published in 1855 with his own money, Leaves of Grass was an attempt at reaching out to the common person with an American epic.  He continued expanding and revising it until his death in 1892.  Whitman never married.  The Final Footprint – A public viewing of his body was held at his Camden home; over one thousand people visited in three hours. Apparently, Whitman's oak coffin was barely visible because of all the flowers and wreaths left for him.  Four days after his death, he was entombed in the private mausoleum he had built at Harleigh Cemetery in Camden.  Another public ceremony was held at the cemetery, with friends giving speeches, live music, and refreshments.  Whitman's friend, the orator Robert Ingersoll, delivered the eulogy.  Later, the remains of Whitman's parents and two of his brothers and their families were moved to the mausoleum.  Whitman has been claimed as America's first "poet of democracy", a title meant to reflect his ability to write in a singularly American character.  A British friend of Walt Whitman, Mary Smith Whitall Costelloe, wrote: "You cannot really understand America without Walt Whitman, without Leaves of Grass… He has expressed that civilization, 'up to date,' as he would say, and no student of the philosophy of history can do without him.".  Poet Ezra Pound called Whitman "America's poet… He is America.".  Andrew Carnegie called him "the great poet of America so far".  Whitman considered himself a messiah-like figure in poetry.  William Sloane Kennedy, speculated that "people will be celebrating the birth of Walt Whitman as they are now the birth of Christ".  The literary critic, Harold Bloom wrote, as the introduction for the 150th anniversary of Leaves of Grass:
If you are American, then Walt Whitman is your imaginative father and mother, even if, like myself, you have never composed a line of verse. You can nominate a fair number of literary works as candidates for the secular Scripture of the United States. They might include Melville's Moby-Dick, Twain's Adventures of Huckleberry Finn, and Emerson's two series of Essays and The Conduct of Life. None of those, not even Emerson's, are as central as the first edition of Leaves of Grass.
Whitman's vagabond lifestyle was adopted by the Beat movement and its leaders such as Allen Ginsberg and Jack Kerouac in the 1950s and 1960s as well as anti-war poets like Adrienne Rich and Gary Snyder.  Lawrence Ferlinghetti numbered himself among Whitman's "wild children", and the title of his 1961 collection Starting from San Francisco is a deliberate reference to Whitman's Starting from Paumanok.  Whitman also influenced Bram Stoker, author of Dracula, and was the model for the character of Dracula.  Stoker said in his notes that Dracula represented the quintessential male which, to Stoker, was Whitman, with whom he corresponded until Whitman's death.  Other admirers included the Eagle Street College, an informal group established in 1885 at the home of James William Wallace in Eagle Street, Bolton, to read and discuss the poetry of Whitman.  The group subsequently became known as the Bolton Whitman Fellowship or Whitmanites.  Its members held an annual 'Whitman Day' celebration around the poet's birthday.  Whitman's poetry has been set to music by a large number of composers including: Kurt Weill, Ralph Vaughan Williams, Frederick Delius, Paul Hindemith, Karl Amadeus Hartmann, Benjamin Britten, Leonard Bernstein, Ned Rorem, Ronald Corp, George Crumb, Roger Sessions and John Adams.  The Walt Whitman Bridge crosses the Delaware River near his home in Camden.
Have you planned yours yet?
Follow TFF on twitter @RIPTFF