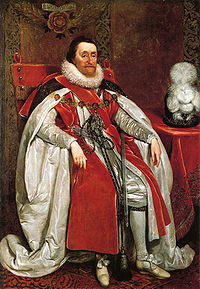 On this day in 1625, King of Scots James VI and King of England as James I, died at Theobalds House, England at the age of 58.  Born on 19 June 1566 at Edinburgh Castle.  As the eldest son and heir apparent of the monarchy he automatically became Duke of Rothesay and Prince and Great Steward of Scotland.  James was baptised "Charles James" on 17 December 1566 in a Catholic ceremony held at Stirling Castle.  He became King of Scotland when he was just thirteen months old on 24 July 1567, succeeding his mother Mary, Queen of Scots, who had been compelled to abdicate in his favour.  In 1603, he succeeded the last Tudor monarch of England and Ireland, Elizabeth I, who died without issue.  He then ruled England, Scotland, and Ireland for 22 years, often using the title King of Great Britain.  Under James, the "Golden Age" of Elizabethan literature and drama continued, with writers such as William Shakespeare, John Donne, Ben Jonson, and Sir Francis Bacon contributing to a flourishing literary culture.  Sir Anthony Weldon claimed that James had been termed "the wisest fool in Christendom", an epithet associated with his character ever since.  James was the only son of Mary, Queen of Scots, and her second husband, Henry Stuart, Lord Darnley.  Both Mary and Darnley were great-grandchildren of Henry VII of England through Margaret Tudor, the older sister of Henry VIII.  James was the first cousin twice removed Elizabeth I.  Mary's rule over Scotland was insecure, for both she and her husband, being Roman Catholics, faced a rebellion by Protestant noblemen.  James married the fourteen-year-old Anne of Denmark, younger daughter of the Protestant King of Denmark Frederick II.  The couple were married formally at the Bishop's Palace in Oslo on 23 November 1589 and, after stays at Elsinore and Copenhagen, returned to Scotland in May 1590.  The stability of James's government in Scotland and in the early part of his English reign, as well as his relatively enlightened views on religion and war, have earned him a positive evaluation from many recent historians.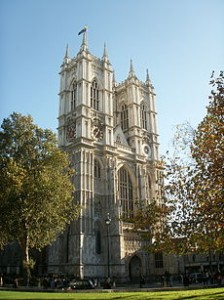 The Final Footprint – James was entombed in Westminster Abbey.  Bishop John Williams of Lincoln preached the sermon, observing, "King Solomon died in Peace, when he had lived about sixty years … and so you know did King James".  "As he lived in peace," remarked the Earl of Kellie, "so did he die in peace, and I pray God our king [Charles I] may follow him".  Other notable Final Footprints at Westminster include; Robert Browning, Lord Byron, Geoffrey Chaucer, Oliver Cromwell, Charles Darwin, Charles Dickens, Edward The Confessor, Elizabeth I, George II, George Friederic Handel, Samuel Johnson, Ben Jonson, Charles II, Edward III, Edward VI, Henry III, Henry V, Henry VII, Richard II, Rudyard Kipling, Henry Wadsworth Longfellow, John Milton, Isaac Newton, Laurence Olivier, Henry Purcell, Mary I, Mary II, Mary Queen of Scots, Thomas Shadwell, Edmund Spenser, Lord Alfred Tennyson, Dylan Thomas, and William III.
Have you planned yours yet?
Follow TFF on twitter @RIPTFF