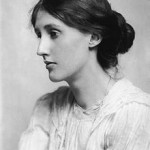 On this day in 1941, writer Virginia Woolf put on her overcoat, filled its pockets with stones, walked into the River Ouse near her home in Lewes, East Sussex, England, and drowned herself, at the age of 59.   Born Adeline Virginia Stephen at 22 Hyde Park Gate in London on 25 January 1882.  In my opinion, one of the foremost modernists of the twentieth century.  During the interwar period, Woolf was a significant figure in London literary society and a central figure in the influential Bloomsbury Group, an influential group of associated English writers, intellectuals, philosophers and artists.  Her most famous works include the novels Mrs Dalloway (1925), To the Lighthouse (1927) and Orlando (1928), and the book-length essay A Room of One's Own (1929), with its famous dictum, "A woman must have money and a room of her own if she is to write fiction."  Woolf suffered from severe bouts of mental illness throughout her life, thought to have been the result of what is now termed bipolar disorder.  Virginia Stephen married writer Leonard Woolf on 10 August 1912.  Despite his low material status (Woolf referring to Leonard during their engagement as a "penniless Jew") the couple evidently shared a close bond.  The ethos of the Bloomsbury group encouraged a liberal approach to sexuality, and in 1922 she met the writer and gardener Vita Sackville-West, wife of Harold Nicolson.  After a tentative start, they began a sexual relationship.  In 1928, Woolf presented Sackville-West with Orlando, a fantastical biography in which the eponymous hero's life spans three centuries and both sexes.  Nigel Nicolson, Sackville-West's son, wrote "The effect of Vita on Virginia is all contained in Orlando, the longest and most charming love letter in literature, in which she explores Vita, weaves her in and out of the centuries, tosses her from one sex to the other, plays with her, dresses her in furs, lace and emeralds, teases her, flirts with her, drops a veil of mist around her".  After their affair ended, the two women remained friends until Woolf's death.  The Final Footprint – Woolf's body was not found until 18 April 1941.  Woolf was cremated and her husband buried her cremated remains under an elm in the garden of Monk's House, their home in Rodmell, Sussex.  Who's Afraid of Virginia Woolf? is a Tony Award-winning 1962 play by Edward Albee.  It examines the breakdown of the marriage of a middle-aged couple, Martha and George.  The title is a pun on the song "Who's Afraid of the Big Bad Wolf?" from Walt Disney's The Three Little Pigs (1933), substituting Woolf's name.  Martha and George repeatedly sing this version of the song throughout the play.  The film adaptation was released in 1966, written by Ernest Lehman, directed by Mike Nichols, and starring Richard Burton, Elizabeth Taylor, George Segal and Sandy Dennis.  Michael Cunningham's 1998 Pulitzer Prize–winning novel The Hours focused on three generations of women affected by Woolf's novel Mrs Dalloway.  In 2002, a film version of the novel was released starring Nicole Kidman as Woolf, a role for which she won the 2002 Academy Award for Best Actress.  The film also starred Julianne Moore and Meryl Streep and featured an award-winning score by American composer Philip Glass.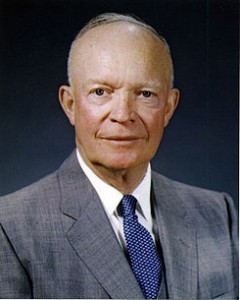 On this day in 1969, five-star general and the 34th President of the United States, Ike, Dwight David Eisenhower died of congestive heart failure at Walter Reed Army Hospital in Washington D.C. at the age of 78.  Born 14 October 1890 in Denison, Texas.  During World War II, he served as Supreme Commander of the Allied forces in Europe, with responsibility for planning and supervising the successful invasion of France and Germany in 1944–45. In 1951, he became the first supreme commander of NATO.  A Republican, Eisenhower entered the 1952 presidential race and won by a landslide, defeating Democrat Adlai Stevenson and ending two decades of the New Deal Coalition holding the White House.  In the 1956 election, he would again face Stevenson, easily winning re-election.  Richard M. Nixon would serve as his vice president for both of his terms in office.  Eisenhower graduated from the U. S. Military Academy in West Point.  He married Mary Geneva "Mamie"Doud (1916-1969 his death).  Eisenhower retired to the place where he and Mamie had spent much of their post-war time, a working farm adjacent to the battlefield at Gettysburg, Pennsylvania.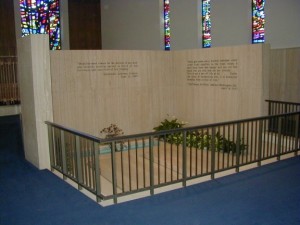 The Final Footprint – Eisenhower is entombed in a small chapel, the Place of Meditation, on the grounds of the Eisenhower Presidential Library in Abilene, Kansas.  The day following his death, his body was moved to the Washington National Cathedral's Bethlehem Chapel where he lay in repose for twenty-eight hours.  On March 30, his body was brought by caisson to the United States Capitol where he lay in state in the Capitol Rotunda.  On March 31, Eisenhower's body was returned to the National Cathedral where he was given an Episcopal Church funeral service.  That evening, Eisenhower's body was placed onto a train en route to Abilene.  Nixon, by this time president himself, said of Eisenhower's death; "Some men are considered great because they lead great armies or they lead powerful nations.  For eight years now, Dwight Eisenhower has neither commanded an army nor led a nation; and yet he remained through his final days the world's most admired and respected man, truly the first citizen of the world."  There are many tributes and memorials to Eisenhower.  My personal favorite being the Eisenhower tree which overhangs the 17th fairway at Augusta National Golf Club, where he was a member.  Evidently the tree proved to be quite an obstacle for him when he played the course.  He asked the club to remove the tree and they refused.
Have you planned yours yet?
Follow TFF on twitter @RIPTFF