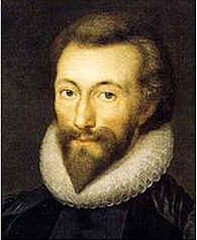 On this day in 1631, English cleric and poet, John Donne died at the age of 59 in London.  Born 22 January 1572 in London.  Donne is considered the pre-eminent representative of the metaphysical poets.  His works are noted for their strong, sensual style and include sonnets, love poems, religious poems, Latin translations, epigrams, elegies, songs, satires and sermons.  His poetry is noted for its vibrancy of language and inventiveness of metaphor, especially compared to that of his contemporaries.  Donne's style is characterised by abrupt openings and various paradoxes, ironies and dislocations.  These features, along with his frequent dramatic or everyday speech rhythms, his tense syntax and his tough eloquence, were both a reaction against the smoothness of conventional Elizabethan poetry and an adaptation into English of European baroque and mannerist techniques.  His early career was marked by poetry that bore knowledge of English society and he met that knowledge with sharp criticism.  Another important theme in Donne's poetry is the idea of true religion, something that he spent much time considering and about which he often theorized.  He wrote secular poems as well as erotic and love poems.  He spent much of the money he inherited during and after his education on womanising, literature, and travel.  In 1601, Donne secretly married Anne More, with whom he had twelve children.  In 1615, he became an Anglican priest.  The Final Footprint – Donne was buried in old St Paul's Cathedral, where a memorial statue of him was erected (carved from a drawing of him in his shroud), with a Latin epigraph probably composed by himself.  Donne's monument survived the 1666 fire, and is on display in the present building.  An excerpt from "Meditation 17 Devotions Upon Emergent Occasions" serves as the opening for Ernest Hemingway's For Whom The Bell Tolls, and also produces the book's title:
… any mans death diminishes me, because I am involved in Mankinde; And therefore never send to know for whom the bell tolls; It tolls for thee..
—Donne, Meditation XVII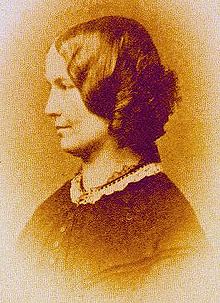 On this day in 1855, sister of Emily and Anne, novelist and poet, Charlotte Bronte died with her unborn child, aged 38 in Haworth, West Riding of Yorkshire, England.  Born in Thornton, west of Bradford in the West Riding of Yorkshire, on 21 April 1816.  The eldest of the three Brontë sisters who survived into adulthood and whose novels have become classics of English literature.  She first published her works (including her best known novel, Jane Eyre) under the pen name Currer Bell.  Charlotte received a proposal of marriage from Arthur Bell Nicholls, her father's curate, who had long been in love with her.  She initially turned down his proposal and her father objected to the union at least partly because of Nicholls's poor financial status.  Charlotte became increasingly attracted to Nicholls and by January 1854 she had accepted his proposal.  They gained the approval of her father by April and married in June.  They took their honeymoon in Banagher, Co. Offaly, Ireland.  The Final Footprint – Charlotte was interred in the family vault in the Church of St Michael and All Angels at Haworth.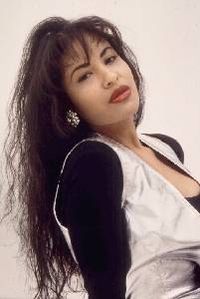 On this day in 1995, singer-songwriter, Grammy winner, The Queen of Tejano, Selena was murdered in Corpus Christi, Texas at the age of 23.  Born Selena Quintanilla on 16 April 1971 in Freeport Community Hospital in Lake Jackson, Texas.  The most successful and popular star in the history of Tejano music.  Her world-wide appeal extended far beyond Tejano.  Selena was killed by Yolanda Saldivar, the president of her fan club and manager of the singer's chain of beauty salons and boutiques.  Selena believed that Saldivar had stolen over $30,000 from her businesses.  Selena was married to Chris Pérez.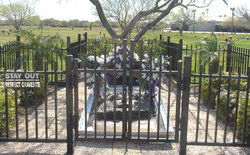 The Final Footprint – Selena is interred in Seaside Memorial Park in Corpus Christi in a private estate.  Pavers lead up to the estate.  Her grave is enclosed in a gated fence.  The grave itself is marked by a full ledger bronze marker featuring a relief of her face and the inscription; "HE WILL ACTUALLY SWALLOW UP DEATH FOREVER, AND THE SOVEREIGN LORD JEHOVAH WILL CERTAINLY WIPE THE TEARS FROM ALL FACES".  ISIAH 25:8    On 12 April 1995, two weeks after her death, George W. Bush, governor of Texas at the time, declared her birthday "Selena Day" in Texas.   Warner Bros. produced Selena (1997), a film based on her life starring Jennifer Lopez.  Selena's life was also the basis of the musical Selena Forever starring Veronica Vazquez.  In June 2006, Selena was commemorated with a museum and a bronze life-sized statue, Mirador de la Flor, in Corpus Christi.  Selena ¡VIVE!
Have you planned yours yet?
Follow TFF on twitter @RIPTFF