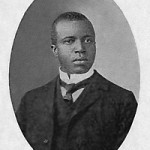 On this day in 1917, composer and pianist, The King of Ragtime, Scott Joplin died from tertiary syphilis and a resulting descent into insanity, in Manhattan State Hospital, a mental institution at age of 49.  During his brief career, he wrote 44 original ragtime pieces, one ragtime ballet, and two operas.  One of his first pieces, the Maple Leaf Rag, became ragtime's first and most influential hit, and has been recognized as the archetypal rag.  Joplin was born into a musical family of laborers in Northeast Texas.  He grew up in Texarkana, where he formed a vocal quartet, and taught mandolin and guitar.  Joplin began publishing music in 1895, and publication of his Maple Leaf Rag in 1899 brought him fame.  The score to his first opera, A Guest of Honor, was confiscated in 1903 with his belongings, owing to his non-payment of bills, and is considered lost.  He continued to compose and publish music, and in 1907 moved to New York City, seeking to find a producer for a new opera.  Joplin never married.  The Final Footprint – Joplin was buried in a pauper's grave that remained unmarked for 57 years.  His grave at Saint Michaels Cemetery in East Elmhurst was finally given a marker in 1974.  Joplin's death is widely considered to mark the end of ragtime as a mainstream music format, and in the next several years it evolved with other styles into jazz, and eventually big band swing.  His music was rediscovered and returned to popularity in the early 1970s with the release of a million-selling album of Joplin's rags recorded by Joshua Rifkin, followed by the Academy Award–winning movie The Sting, which featured several of his compositions, such as The Entertainer.  The opera Treemonisha was finally produced in full to wide acclaim in 1972. In 1976, Joplin was posthumously awarded a Pulitzer Prize.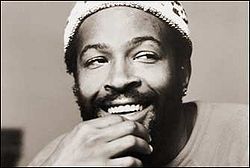 On this day in 1984, singer-songwriter and musician, The Prince of Motown, The Prince of Soul, Grammy winner, Marvin Gaye was shot and killed by his father during an argument at his parent's home in Los Angeles the day before his 45th birthday.  Born Marvin Pentz Gaye, Jr. on 2 April 1939 at Freedman's Hospital in Washington, D.C.  One of the giants of music.  Where does one start a list of favorite Gaye songs; "Can I get a Witness", "What's Going On", "Let's Get it On", "Sexual Healing", to name just a few.  Gaye was married twice; Anna Gordy, Berry Gordy, Jr.'s sister (1964-1977) and Janis Hunter (1977-1981 divorce).  The Final Footprint – Gaye was cremated and his cremains were scattered in the Pacific Ocean.
Have you planned yours yet?
Follow TFF on twitter @RIPTFF