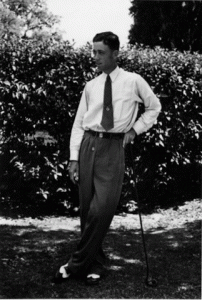 On this day in 1995, golf professional,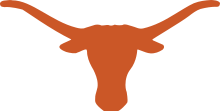 coach, writer, Harvey Penick died in Austin, Texas at the age of 90.  Born on 23 October 1904 in Austin.  Penick was the golf coach at the University of Texas from 1931 to 1963, coaching the Longhorns to 21 Southwest Conference championships in 33 years, including 20 out of 23 seasons from 1932 to 1954 (1932–38; 1940–47; 1949–52; 1954).  He coached the following members of the World Golf Hall of Fame: Tom Kite, Ben Crenshaw, Mickey Wright, Betsy Rawls, and Kathy Whitworth.  In 1992, he co-authored (with Bud Shrake) Harvey Penick's Little Red Book.  The book became the highest selling golf book ever published.  In my opinion, Penick was perhaps the most gifted instructor of the mental game who ever lived.  He said; "once you address the ball, hitting it to the desired target must be the only thing in your life. Allow no negative thoughts, and focus on your goal."    Penick and Shrake collaborated on four more golf books, the final three published after Penick's 1995 death.  During his final illness, he gave lessons from his deathbed to Crenshaw.  The day after serving as a pallbearer at Penick's funeral, Crenshaw began play in the 1995 Masters Tournament.  With the memory and spirit of his longtime friend and mentor to guide him, he became the second oldest Masters champion, winning his second Masters at the age of 43.  Upon sinking his final putt on the 18th green, Crensaw doubled over with his elbows on his knees and his face in his hands, crying.  One of my all-time favorite sporting moments.  I watch the Masters on television every year and I was riveted to every moment of that tournament in 1995.  In the post-tournament interview, Crenshaw said: "I had a 15th club in my bag."  Penick was married to Helen Holmes (1928-1995 his death).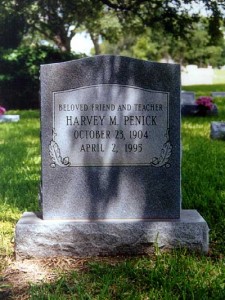 The Final Footprint – Penick is interred in Austin Memorial Park Cemetery in Austin.  His grave is marked by a individual upright granite marker with the term of endearment; BELOVED FRIEND AND TEACHER.  Helen was interred next to him upon her passing in 2006 at the age of 101.  Other notable final footprints at Austin Memorial Park include James Michener, Frank Hamer, Bibb Falk and Noble Doss.
Have you planned yours yet?
Follow TFF on twitter @RIPTFF