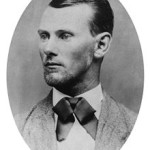 On this day in 1882, outlaw, gang leader, bank robber, train robber, member of the James-Younger Gang, legendary figure of the Wild West, hero to some and murderer to others, younger brother of Frank James, Jesse James died in his home in St. Joseph, Missouri at the age of 34 when he was shot in the back of the head by Robert Ford.  Born Jesse Woodson James in Clay County, Missouri, near the site of present day Kearney, on 5 September 1847.  Jesse and Frank were Confederate guerrillas during the Civil War.  Apparently at one time or another one or both of them rode with William Quantrill and Bloody Bill Anderson.  They were accused of participating in atrocities committed against Union soldiers.  After the war, as members of one gang or another, they robbed banks, stagecoaches, and trains.  Despite popular portrayals of James as a kind of Robin Hood, robbing from the rich and giving to the poor, there is no evidence that he and his gang used their robbery gains for anyone but themselves.  The James brothers were most active with their gang from about 1866 until 1876, when their attempted robbery of a bank in Northfield, Minnesota, resulted in the capture of Cole, Jim and Bob Younger.  Frank and Jesse continued in crime for several years, recruiting new members, but were under increasing pressure from law enforcement.  Jesse married is first cousin Zerelda Amanda Mimms.  The Final Footprint – The death of Jesse became a national sensation.  The Fords made no attempt to hide their role.  Robert Ford wired the governor to claim a reward.  Crowds pressed into the little house in St. Joseph to see the dead outlaw.  The Ford brothers surrendered to the authorities but were evidently dismayed to find that they were charged with first degree murder.  In the course of a single day, the Ford brothers were indicted, pleaded guilty, were sentenced to death by hanging and two hours later were granted a full pardon by Governor Thomas T. Crittenden.  The governor's quick pardon suggested he knew the brothers intended to kill James.  The implication that the governor conspired to kill a private citizen startled the public and added to James' notoriety.  After receiving a small portion of the reward, the Fords fled Missouri.  Later the Ford brothers starred in a touring stage show in which they reenacted the shooting.  Suffering from tuberculosis (then incurable) and a morphine addiction, Charley Ford committed suicide on 6 May 1884, in Richmond, Missouri.  Bob Ford operated a tent saloon in Creede, Colorado.  On 8 June 1892, a man named Edward O'Kelley went to Creede, loaded a double barrel shotgun, entered Ford's saloon and said "Hello, Bob" before shooting Ford in the throat, killing him instantly.  O'Kelley was sentenced to life in prison.  O'Kelley's sentence was subsequently commuted because of a 7,000 signature petition in favor of his release. He was pardoned on 3 October 1902.  Jesse was initially interred at the James Family Farm just outside Kearney.  James' mother Zerelda Samuel wrote the following epitaph for him: In Loving Memory of my Beloved Son, Murdered by a Traitor and Coward Whose Name is not Worthy to Appear Here.  Eighteen months after Jesse's wife's death in November 1900, Jesse's body was moved from the James Family Farm to rest next to hers at Mount Olivet Cemetery in Kearney.  Debate continues over whether to place Jesse in the context of regional insurgencies of ex-Confederates following the American Civil War or as a manifestation of frontier lawlessness or alleged economic justice.  Cultural depictions of Frank and Jesse and the Youngers proliferate in literature, movies and music.  In Willa Cather's My Antonia, the narrator reads a book entitled 'Life of Jesse James' – probably a dime novel.  In Charles Portis's 1968 novel, True Grit, the U.S. Marshal Rooster Cogburn describes fighting with Cole Younger and Frank James for the Confederacy during the Civil War.  Long after his adventure with Mattie Ross, Cogburn ends his days in a traveling road show with the aged Cole Younger and Frank James.  During his travel to the "Wilde West," Oscar Wilde visited Kearney.  Learning that Jesse had been assassinated by his own gang member, "…an event that sent the town into mourning and scrambling to buy Jesse's artifacts," "romantic appeal of the social outcast" in his mind, Wilde wrote in one of his letters to home that: "Americans are certainly great hero-worshippers, and always take [their] heroes from the criminal classes."  Frank and Jesse make an appearance in Wildwood Boys (2000) by James Carlos Blake.
In his adaptation of the traditional song "Jesse James", Woody Guthrie magnified James's hero status.  "Jesse James" was later covered by the Anglo-Irish band The Pogues on their 1985 album Rum, Sodomy, and the Lash, and by Bruce Springsteen on his 2006 tribute to Pete Seeger, We Shall Overcome: The Seeger Sessions.  A somewhat different song titled "Jesse James", referring to Jesse's "wife to mourn for his life; three children, they were brave," and calling Robert Ford "the dirty little coward who shot Mr. Howard," was also the first track recorded by the "Stewart Years" version of the Kingston Trio at their initial recording session in 1961 (and included on that year's release Close-Up).  Echoing the Confederate hero aspect, Hank Williams, Jr.'s 1983 Southern anthem "Whole Lot Of Hank" has the lyrics "Frank and Jesse James knowed how to rob them trains, they always took it from the rich and gave it to the poor, they might have had a bad name but they sure had a heart of gold."  Rock band James Gang was named after Jesse James's gang. Their final album, released in 1976, was titled Jesse Come Home.  Warren Zevon's 1976 self-titled album Warren Zevon includes the song "Frank and Jesse James".  The album contains another reference to Jesse in the song "Poor Poor Pitiful Me" with the lyric "Well, I met a girl in West Hollywood, I ain't naming names. She really worked me over good, she was just like Jesse James."  Linda Ronstadt covered the song a year later with slightly altered lyrics.  In her album Heart of Stone (1989), Cher included a song titled "Just Like Jesse James", written by Desmond Child & Diane Warren.  This single, which was released in 1990, achieved high positions in the charts and sold 1,500,000 copies worldwide.  The Nitty Gritty Dirt Band's album Uncle Charlie and His Dog Teddy features the song "Jesse James", ostensibly recorded on a wire recorder.  In 1980 a concept album titled The Legend of Jesse James was released.  It was written by Paul Kennerley and starred Levon Helm (The Band) as Jesse James, Johnny Cash as Frank James, Emmylou Harris as Zee James, Charlie Daniels as Cole Younger, and Albert Lee as Jim Younger.  There are also appearances by Rodney Crowell, Jody Payne, and Rosanne Cash.  In 1999 a double CD was released containing The Legend Of Jesse James and White Mansions, another concept album by Kennerley about life in the Confederate States of America between 1861-1865.  In 2012 Clay Walker released "Jesse James" as the fourth single from his 2010 studio album She Won't Be Lonely Long.
There have been numerous portrayals of Jesse in film, including two wherein Jesse James, Jr. depicts his father.  A partial list includes: Jesse James(1939) played by Tyrone Power with Henry Fonda as Frank James and John Carradine as Bob Ford; Jesse James at Bay (1941) played by Roy Rogers; Kansas Raiders (1950) played by Audie Murphy; A Time for Dying (1969) again played by Murphy; The Great Northfield Minnesota Raid (1972) played by Robert Duvall; The Long Riders (1980) played by James Keach with Stacy Keach as Frank James, David Carradine as Cole Younger, Keith Carradine as Jim Younger, Robert Carradine as Bob Younger, Dennis Quaid as Ed Miller, Randy Quaid as Clell Miller, Christopher Guest as Charley Ford, and Nicholas Guest as Robert Ford; The Last Days of Frank and Jesse James (1986) played by Kris Kristofferson with Cash as Frank James and Willie Nelson as Gen. Jo Shelby; Frank and Jesse (1994) played by Rob Lowe; Purgatory (1999) played by J.D. Souther; American Outlaws (2001) played by Colin Farrell; The Assassination of Jesse James by the Coward Robert Ford (2007) played by Brad Pitt, with Casey Affleck as Bob Ford.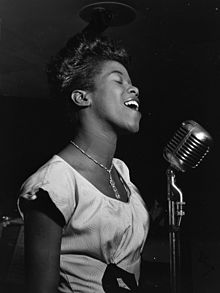 On this day in 1990, jazz singer, Grammy winner, Sailor, Sassy, The Divine One, Sarah Vaughan died at her home in California at the age of 66 from lung cancer.  Born Sarah Lois Vaughan on 27 March 1924 in Newark, New Jersey.  She had a contralto vocal range and her voice is one my favorites in music.  Her singing ability was envied by many including Frank Sinatra who reportedly said that "Sassy is so good now that when I listen to her I want to cut my wrists with a dull razor."  Vaughan was married three times: George Treadwell (1946–1958 divorce), Clyde Atkins (1958–1961 divorce) and Waymon Reed (1978–1981 divorce).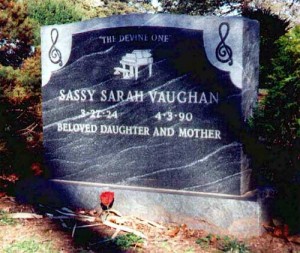 The Final Footprint – Vaughan is interred in Glendale Cemetery in Bloomfield, New Jersey.  Her grave is marked by an individual upright marker with the inscription "THE DIVINE ONE" and the term of endearment "BELOVED DAUGHTER AND MOTHER."
Have you planned yours yet?
Follow TFF on twitter @RIPTFF