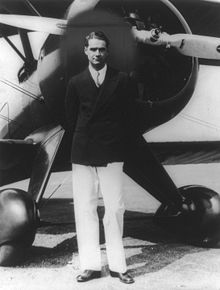 On this day in 1976, aviator, engineer, industrialist, film producer, director, philanthropist, and once one of the wealthiest people in the world, Howard Hughes died from kidney failure aboard an airplane bound for Houston, at the age of 70.  Born Howard Robard Hughes, Jr. probably on 24 September 1905 in Humble, Texas.  His father patented the two-cone roller bit, which allowed rotary drilling for petroleum in previously inaccessible places and founded the Hughes Tool Company.  Hughes took full control of the business when he was 19 following his father's death.  His most notable films inlcude the flying film Hell's Angels (1930), Scarface (1932), and The Outlaw (1943), which featured Jane Russell.  Hughes dated many famous women, including Bette Davis, Ava Gardner, Olivia de Havilland, Katharine Hepburn, Ginger Rogers, Jean Peters, Terry Moore and Gene Tierney.  He reportedly proposed to Joan Fontaine several times.  In 1932 Hughes founded Hughes Aircraft Company, which became a major American aerospace and defense contractor, as a division of Hughes Tool Company.  Hughes was one of the most influential aviators in history; he set multiple world air-speed records, built the Hughes H-1 Racer and H-4 "Hercules" (better known to history as the "Spruce Goose") aircraft, and acquired and expanded Trans World Airlines which would later on merge with American Airlines.  In 1953, Hughes founded the Howard Hughes Medical Institute (HHMI) in Chevy Chase, Maryland, formed with the express goal of basic biomedical research, including trying to understand, in Hughes' words, the "genesis of life itself."  Hughes gave all his stock in the Hughes Aircraft Company to the institute, which would sell the company to General Motors in 1985 for $5 billion.  HHMI is one of the wealthiest medical research foundations in the world.  In 1966, Hughes moved into the Desert Inn in Las Vegas.  He wound up purchasing other hotels/casinos such as the Castaways, New Frontier, The Landmark Hotel and Casino, the Sands and the Silver Slipper.  Hughes was married two or three times; Ella Rice (1925-1929 divorce), Terry Moore (1949-1976 his death) (alleged), and Jean Peters (1957-1971 divorce).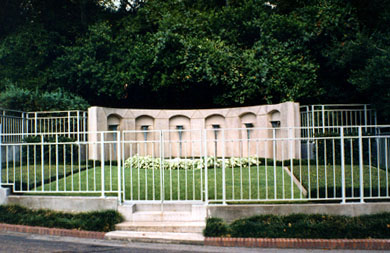 The Final Footprint – Hughes is interred in the Hughes private estate with his parents in Glenwood Cemetery in Houston.  One of my offices in Houston overlooked Glenwood.  Hughes has been portayed in film by Tommy Lee Jones in The Amazing Howard Hughes (1977) and by Leonardo DiCaprio in The Aviator (2004).  The latter was nominated for 11 Academy Awards, winning five.  Other notable Final Footprints at Glenwood include; Maria Franklin Prentiss Langham Gable, Oveta Culp Hobby, William P. Hobby, Anson Jones, Glenn McCarthy and Gene Tierney.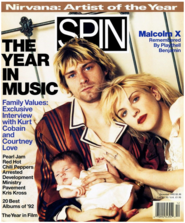 On this day in 1994, musician, singer, and songwriter Kurt Cobain died from a self inflicted gunshot wound at his home in Seattle at the age of 27.  Born Kurt Donald Cobain on 20 February 1967, at Grays Harbor Hospital in Aberdeen, Washington.  Cobain was the lead singer, guitarist, and primary songwriter of the grunge band Nirvana.  Cobain formed Nirvana with Krist Novoselic in Aberdeen, Washington, in 1985 and established it as part of the Seattle music scene, having its debut album Bleach released on the independent record label Sub Pop in 1989.  After signing with major label DGC Records, the band found breakthrough success with "Smells Like Teen Spirit" from its second album Nevermind (1991).  Following the success of Nevermind, Nirvana was labeled "the flagship band" of Generation X, and Cobain hailed as "the spokesman of a generation".  Cobain, however, was often uncomfortable and frustrated, believing his message and artistic vision to have been misinterpreted by the public, with his personal issues often subject to media attention.  During the last years of his life, Cobain struggled with heroin addiction, illness and depression.  Cobain married fellow musician Courtney Love.  With Cobain's death at 27 he became a member of the 27 Club; a group of famous musicians who died when they were 27 years old.  The group includes; bluesman Robert Johnson, Rolling Stone Brian Jones, Jimi Hendrix, Janis Joplin, Jim Morrison and Amy Winehouse.  The Final Footprint – A public vigil was held for Cobain on 10 April 1994, at a park at Seattle Center.  A prerecorded message by Love was played at the memorial.  Love read portions of Cobain's suicide note to the crowd, crying and chastising Cobain.  Near the end of the vigil, Love arrived at the park and distributed some of Cobain's clothing to those who still remained.  A final ceremony was arranged for Cobain, by his mother, on 31 May 1999.  As a Buddhist monk chanted, daughter Frances Bean scattered Cobain's ashes into McLane Creek in Olympia, the city where he "had found his true artistic muse."  Together with Nirvana band mates Krist Novoselic and Dave Grohl, Cobain was posthumously inducted into the Rock and Roll Hall of Fame in 2014, which was the first year in which the band was eligible.
Have you planned yours yet?
Follow TFF on twitter @RIPTPFF